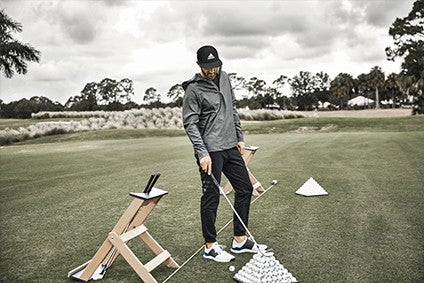 German sportswear group adidas has launched a new apparel and footwear extension line under its golf business, with each piece in the collection designed as a result of feedback from core customers.
While the new Adicross apparel line won't be worn by tour professionals in competition, Adidas says it aims to change the landscape of golf apparel with urban-inspired and non-traditional apparel and footwear.
"Like everyone else, golfers live in a complex, busy world with many diverse interests," says Dylan Moore, creative director, Adidas Golf. "They expect more from less and demand performance out of what they wear. Adicross provides it all; performance, comfort and versatility."
While being functional, the materials that were chosen were built for purpose. Key materials include no-show technology, featured in the Henley, T-shirt and pique polo, which offers a sweat-wicking, double-knit material that eliminates the appearance of sweat before it gets to the surface; nylon-spandex blend, featured in the five-pocket pant and short, which combines stretch and comfort to increase ease of movement; and Primeknit, featured in the icon polo and jacket, which Adidas says is ideal for enhancing mobility and providing premium comfort and feel.
In addition, the firm has also launched the new Adicross Bounce, which features an ergonomic fit, offset wrapped saddle with multiple eyelet rows for customisable lacing, and a non-marking Adiwear rubber spikeless outsole that features 181 strategically-placed lugs for optimal grip that are green-friendly.
"We wanted to challenge ourselves to design a line that would aid in helping athletes in their game, their life and in their world," adds Chad Alasantro, senior designer for golf at Adidas. "Adicross is a perfect blend of hidden technology, fused with a creative aesthetic."