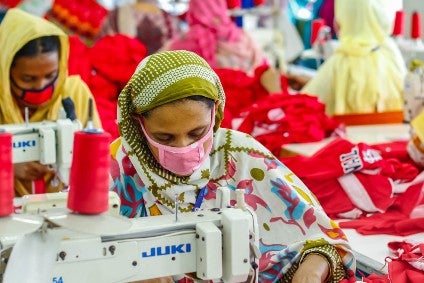 While most companies scored poorly on a new human rights benchmark, German sporting goods giant Adidas and UK retailer Marks and Spencer have once again topped the list.
Following the launch of its pilot results in 2017 and an extensive review of the methodology, the 2018 Corporate Human Rights Benchmark (CHRB) brings together nine months of research and analysis to rank 101 of the world's largest companies in high human-rights-risk sectors and provides a snapshot of their human rights performance.
The aim is to get investors thinking far more about the human rights impacts of their investments and reward companies that are more transparent about their policies and practices.
Also ranking agriculture and extractives companies, the benchmark revealed an overall picture that chair of the CHRB, Steve Wayood, calls "deeply concerning".
"Most companies score poorly on the benchmark, indicating weak implementation of the UN Guiding Principles on Business and Human Rights," he says. "This raises questions for investors and consumers as to whether these companies are serious about avoiding harm to people in their pursuit of profits. A quarter of companies score less than 10% on the assessment and an alarming amount of companies score no points for human rights due diligence. This should provide food for thought for governments considering the role of legislation in business and human rights and should also serve as a wake-up call for businesses and investors everywhere."
But there are positive signs as well, Waygood concedes: "Better scoring companies are a minority, but they do exist. They demonstrate that integrating respect for human rights is neither impossible, nor detrimental, to the business model. They also show more willingness to discuss policies-in-action and the challenges they face."
The top five scoring companies are the same as in 2017: Adidas, BHP Billiton, Marks and Spencer, Rio Tinto and Unilever, but they are leaving the 'average' company further behind, Waygood says.
Thirty of the largest apparel companies in the world were assessed against the CHRB's apparel criteria, with the sector's average scores heavily skewed to the lowest bands. Only five out of 30 companies scored above 50% and nine scored less than 10%.
Leading both the cross-industry benchmark and the apparel benchmark, Adidas was awarded a score of 80%-90%. Marks and Spencer, meanwhile, was joined by VF Corp in the 60%-70% bracket, while Inditex and Gap followed with 50%-60%.
H&M and Hanesbrands followed with 40%-50%, while Nike, Tesco, Next and Under Armour were in the next band having achieved 30%-40%.
Kering, Fast Retailing, and Primark-owner Associated British Foods scored 20%-30%, while L Brands, TJX, and Target were among those having achieved 10%-20%. Tapestry, Ross Stores, Macy's, and Nordstrom were rated 0%-10%.
The benchmark found there has been a general upward trend, on average, in the apparel sector since 2017, but clothing companies are scoring fewer points on remedies and grievance mechanisms than for other themes, as in 2017. Adidas, Marks & Spencer and VF were consistently top scorers in different themes, while the lowest scoring companies per theme were more varied.
The average score for the apparel sector was 26.7%, compared to 29.4% for extractives companies, and 25.5% for the agricultural sector.
"All companies can improve and there is much more to be done to ensure policy commitments are realised across operations and supply chains, but we believe that recognising leading companies and scrutinising the poorer performers can help drive greater long-term positive change across industries as a whole," Waygood says.
Click here to access the 2018 Corporate Human Rights Benchmark (CHRB).