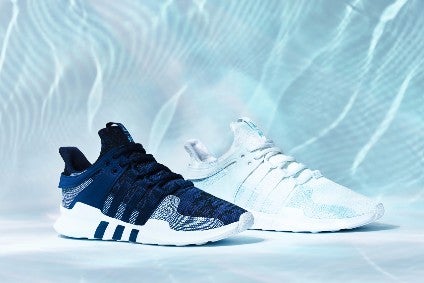 German sportswear giant Adidas says one of its top priorities during the coronavirus pandemic is ensuring its supply chain remains operational, as it looks to manage relations and end the year with "healthy and reasonable inventory."
Taking responsibility for the extended supply chain is one of three priorities for Adidas in the wake of Covid-19 disruptions to both its retail and sourcing operations, together with financial viability and security and health of its employees.
Speaking to analysts on the firm's first-quarter earnings call, CEO Kasper Rorsted, said: "We have a deep responsibility for the extended supply chain to ensure that they will be around when the crisis go away. Many of our partners have been around for more than ten years, actually, 85% of our partners."
In order to manage inventories amid the crisis, Adidas says it has used a number of methods including cancelling, postponing, and holding stock.
The company recorded cost in a "high-double-digit million euro amount" related to the cancellation of purchase orders from suppliers in Asia to adjust the inbound flow of inventories to the current circumstances. This accounted for around two percentage points of gross margin decline in the first quarter.
"We also placed orders that we have actually postponed to later quarters or later months and we actually cancelled some orders proactively as well," said CFO Harm Ohlmeyer. "And all the cancellations have been in close alignment with our suppliers."
He said Adidas has reviewed payment terms with its suppliers and "reviewed the utilisation of all suppliers," all of which was "in good collaboration" with them to ensure they stay "healthy on both sides."
Adidas says it is "pulling several levers" to deal with existing inventories, including evergreen products that will be repurposed into 2020 products.
"These are not just the Stan Smiths and Superstars, there is a lot of products that will be as relevant in spring-summer 2021 as they are in 2020," Ohlmeyer said.
The majority of remaining products will go to Adidas' own operated factory outlets. "We have 1,100 factory outlets globally and we stopped ordering for these outlets to clear some of the inventory that has been built or will be built in Q2."
Adidas is also reallocating inventory to e-commerce. In the past the company would have inventory reserved for wholesale orders, but this has now been reallocated to its digital business.
"We've done an extremely fair shift of resources towards digital, not only product and money resources, but also people resources from within our organisation, where we are taking traditional IT resources and allocated them to speed up our development of our digital platforms," Ohlmeyer added.
"E-com will also provide an opportunity to clear inventory through commercial moments and major online sales events throughout the year. The most prominent will be Cyber Week and will be Singles' Day or Doubles Day in China. And a smaller portion can also be moved through selective retail partners."
Earlier this week, Adidas booked a 97% slide in profits as the impact of coronavirus weighed heavily on its first-quarter results. Net income came in at EUR20m (US$21.7m), while global revenues fell 19% to EUR4.8bn.