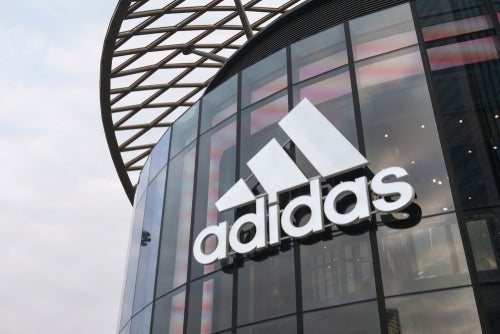 Adidas booked flat sales growth for the first quarter, at €5,274bn ($5.8bn), revenues hurt by its divorce with the Yeezy brand and sluggish growth in Lifestyle.
Key takeaways from adidas Q1 numbers:
Gross margin down 5.1pp to 44.8% on higher supply chain costs, increased discounting, inventory allowances, negative forex and adverse Yeezy impact
Operating profit: €60m from €437m a year earlier
China revenues down 9%
North America revenues down 20% (down 5% excluding Yeezy)
Inventories "still too high" but €300m lower than start of year.
Wholesale revenues up 3% on strong EMEA growth, APAC and LatAm growth.
Direct to Consumer revenues down 7% on Yeezy impact.
The company anticipates incurring losses this year following the termination of its collaboration with rapper Kanye West. Operating profit in Q1 fell 86% to €60bn, however, this still beat the €15bn forecast by analysts, resulting in an increased share price in early morning trade.
Adidas says its decision to end the Yeezy partnership significantly impacted sales during the reported quarter, reducing revenue by approximately €400bn, primarily affecting sales in the North America, Greater China, and EMEA regions.
Gulden acknowledged that losing the Yeezy brand is "of course hurting us," in the report, without elaborating on the company's plans for the €1.2bn worth of unsold Yeezy shoes following the termination of the partnership. If it decides to completely write off the Yeezy stock the company expects to report an operating loss of €700bn in 2023.
Adidas confirms full-year guidance
For the full year 2023, Adidas continues to expect currency-neutral revenues to decline at a high-single-digit rate as macroeconomic challenges and geopolitical tensions persist. Elevated recession risks in North America and Europe as well as uncertainty around the recovery in Greater China continue to exist. The company's revenue development will also be impacted by the initiatives to significantly reduce high inventory levels. In addition, while the company continues to review future options for the utilisation of its Yeezy inventory, the guidance reflects the revenue loss of around €1.2 billion from potentially not selling the existing stock. Accounting for the corresponding negative operating profit impact of around €500m, the company's underlying operating profit is projected to be around the break-even level in 2023. 
Analyst reaction
Pippa Stephen, senior apparel analyst at Global Data said: "Adidas' woes continued into Q1 FY2023, with reported revenue falling by 0.5% to €5.3bn, and operating profit plunging by 86.2% to just €60m, significantly underperforming its key rivals Nike and Puma, which saw revenue grow by 14.0% and 14.4% respectively across comparative periods. While Adidas' troubles are largely down to the termination of Yeezy, with sales excluding this brand up 9%, it also has fewer desirable designs than its competitors which has driven away many of its formerly loyal shoppers. Its performance was hindered by North America, where revenue fell 19.6% in neutral currencies due to Yeezy's popularity there, with revenue excluding the brand down only 5%. Greater China's revenue declined 9.4% as local brands like Li-Ning and ANTA continue to steal share. EMEA grew 4.0%, though this would have been boosted by tough Omicron comparatives and driven by high inflation, while Asia Pacific and Latin America outperformed considerably, rising by 15.6% and 48.7% respectively. Adidas' short-term revenue outlook remains bleak, with FY2023 still expected to decline by high single-digits, including a €1.2bn loss if it does not sell its remaining Yeezy stock.
"Despite losing Yeezy, its footwear segment grew by 1% as it was held up by its Samba, Gazelle and Campus styles soaring in popularity, as well as its performance segment, with football products bolstered by the FIFA Men's World Cup at the end of 2022. However, apparel sales fell 3%, signalling that its new Adidas Sportswear label which it launched in February has not yet had a significant impact, so it must focus on growing awareness of it more through impactful marketing. In terms of channels, e-commerce sales dropped 23%, significantly impacted by the Yeezy termination, whereas DTC stores rose by 11%, boosted by Omicron affecting footfall at the beginning of 2022.
"Adidas has found itself in hot water yet again, as it is being sued by investors who claim it knew about the risks of its partnership with Kanye West long before it cut ties. While it is unable to reverse its past mistakes, it must now quickly come to a decision on what to do with its remaining Yeezy stock, to avoid angering its investors even further. Should it decide to sell it, it risks damaging its brand reputation even further, so must ensure it does so sensitively to avoid upsetting customers. With its Ivy Park collaboration with Beyoncé also reportedly coming to an end, it must now rebuild its star power through new partnerships, as this will give it a better chance of regaining its losses and rebuilding its competitiveness in the sportswear market."