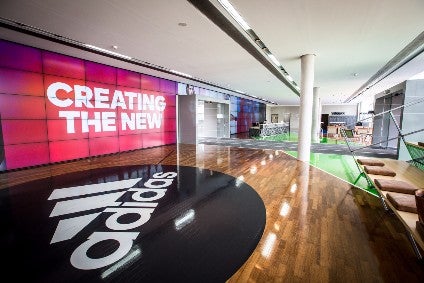 adidas says it will continue to invest very heavily into its digital business model as the German sportswear giant looks to boost product innovation and speed-to-market.
Speaking on the firm's earnings call following the release of its third-quarter results this week, CEO Kasper Rorsted told analysts that when it comes to digital, he believes there are still many things Adidas can do.
The company has been something of a pioneer in digital innovation, near-shoring using automation and robotics, and looking at IoT from a customer and store point of view.
"We have been and will continue to invest very, very heavily into the overall set of our digital business model," says Rorsted. "We are heavily investing in people and can make use of data much more diligently. We are applying dynamic pricing. We are investing in physical infrastructure to ensure we speed up delivery. It's a combination of products, Hype launches surrounding digital tools like the app, like the Creators Club and just continuing to invest to make the app consistent."
The Creators Club is a global membership programme that rewards consumers' loyalty with access to a set of specials, including exclusive product offers and events. Consumers in the US are the first who can sign up for the programme in stores and through the Adidas app.
"It makes a huge difference that we drive our business and our consumer engagement through the digital channels," Rorsted told analysts. "Some quarters will be great, some quarters will be slower but overall, we're convinced that the digital journey is the right one for the company."
CFO Harm Ohlmeyer concurred. Especially in the US, he said Adidas is continuing to invest to reach the consumer faster through digital, through e-commerce, and by investing in building the appropriate infrastructure. "We have the financial strengths to do so and [are] accelerating these things."
He added: "We used to run this company like 20 small companies. We want to run it as one company. And we are accelerating our ERP roll-out. We're also standardising some of the business processes, primarily in Asia. And we put all hands on deck for Asia to accelerate as much of these things into 2018 to then get more scale in the years to come."
Adidas increased its full-year earnings outlook on Wednesday (7 November) as a result of strong growth in its third-quarter. Net income from continuing operations jumped 19% to EUR656m (US$863m), while sales climbed 3% to EUR5.9bn.
Combined sales of the Adidas and Reebok brands continued to expand at strong double-digit rates in both North America (+16%) and Asia-Pacific (+15%), but declined 1% in Western Europe in the quarter.
Speaking to CNBC following the release of the results, Rorsted said: "Some of our launches in Western Europe have not worked to the extent that we wanted, and there is no doubt that the European economy has been more impacted (by events) than any other in the world. The Brexit decision is perhaps the most unwise we've seen in the past thirty years and that is also affecting consumer spending in Europe."