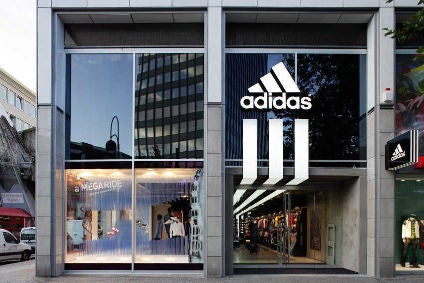 German sportswear group Adidas has increased its profitability outlook for the year on the back of what it called a "strong financial performance" in the first nine months of 2018 and "high-quality growth" in the third quarter.
Net income from continuing operations in the third quarter jumped 19% to EUR656m (US$863m) from EUR549m in the year-ago period, while the company's gross margin increased 1.4 percentage points to 51.8%, compared to 50.4% last year. This development was driven by an improved pricing, channel and category mix, reflecting the company's focus on the quality of its top-line growth, as well as lower sourcing costs. These improvements more than offset severe negative currency effects.
The latest set of results saw net revenues climb 3% to EUR5.9bn – a currency-neutral rise of 8% – reflecting a 10% increase at the Adidas brand that was driven by double-digit growth in Sport Inspired as well as high-single-digit growth in Sport Performance; the latter driven by continued double-digit growth in the training and running categories.
During the third quarter, Adidas said its top-line development was impacted by the first-time application of hyperinflation accounting to its Argentinian business, which represented 2% of global sales in 2017. IAS 29 requires that hyperinflation accounting be applied retrospectively from the start of the relevant reporting period, namely from 1 January 2018. As a result, reported revenues were negatively impacted by a high-double-digit million Euro amount. At the same time, hyperinflation accounting had a slightly positive impact on currency-neutral revenue growth.
Meanwhile, revenues at the Reebok brand fell 5% as double-digit growth in Classics was more than offset by declines in the training and running categories. From a channel perspective, the company's top line was largely driven by "excellent" double-digit growth in direct-to-consumer revenues with strong support from e-commerce, where revenues grew 76% in the quarter.
From a market segment perspective, on a currency-neutral basis, the combined sales of the Adidas and Reebok brands continued to expand at strong double-digit rates in both North America (+16%) and Asia-Pacific (+15%), the latter driven by Greater China (+26%).
Revenues in Russia/CIS increased 7% as the positive impact from World Cup-related sales still offset the significant amount of store closures during the past twelve months. While revenues in Latin America were flat, sales in Emerging Markets decreased by 2%. Revenues in Western Europe, in line with expectations, declined 1% during the quarter.
"We delivered high-quality growth again in Q3," said CEO Kasper Rorsted. "The top-line expansion was driven by double-digit increases across our strategic growth areas North America, Greater China and e-commerce. At the same time, we achieved strong profitability improvements despite a significant increase in marketing investments and severe currency headwinds.
"With these results, we are confident to reach a higher-than-expected profitability level in 2018 and remain firmly on track to achieve our long-term targets until 2020."
Looking ahead, the group has increased its profitability outlook for the year and now forecasts net income from continuing operations to reach between EUR1.66bn-EUR1.72bn, reflecting an increase of between 16% and 20% compared to the prior-year level of EUR1.43bn.
Currency-neutral revenues in 2018 are, however, now expected to grow between 8% and 9%, at the lower end of the communicated range, due to lower-than-initially-expected growth in Western Europe.