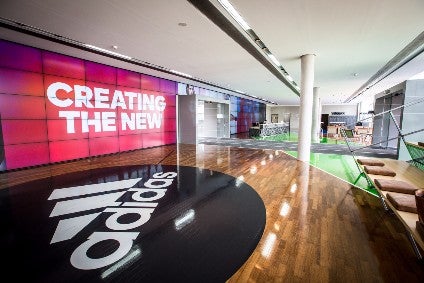 German sportswear giant adidas is expecting sales to drop by up to EUR1bn (US$1.13bn) in Greater China in the first quarter, due to coronavirus, with a negative impact also now being felt in Japan and South Korea.
In a trading update today (11 March), Adidas said revenues slumped 80% in Greater China below the prior-year level between Chinese New Year and the end of February. The company said it has seen a "slight improvement" in business activity since, with stores and warehouses gradually opening and consumer traffic slowly picking up.
Adidas cancelled wholesale shipments in February, which it says could lead to the acceptance of a significant amount of product takebacks, which it plans to clear through its own channels throughout the remainder of the year.
Based on this, the company is forecasting first-quarter sales in Greater China to be between EUR800m and EUR1bn below last year, and operating profit to decline between EUR400m and EUR500m.
Adidas said that while its supply chain has been facing disruptions, the majority of its factories in China are operational again and its global sourcing activities have not been impacted so far. Traffic declines, however, are now being observed in Japan and South Korea, with a corresponding negative business impact.
"As the situation keeps evolving, the further recovery in Greater China, the extent of spillover into other countries as well as the availability of raw materials remain largely uncertain," Adidas said.
Excluding the coronavirus epidemic, the company is forecasting full-year currency-neutral sales to increase between 6% and 8%, driven by growth in all market segments. Gross margin is forecast to decline slightly compared to the prior-year level of 52% due to unfavourable currency developments and higher sourcing costs. Net income from continuing operations, meanwhile, is projected to increase to between EUR2.1bn and EUR2.16bn.
In the fourth quarter, currency-neutral net sales grew 10% to EUR5.84bn, boosted by an increase of 11% at brand Adidas. The combined sales of the Adidas and Reebok brands were driven by double-digit increases in Greater China (18%) – leading to growth of 13% in Asia-Pacific – and North America (10%). Double-digit growth was also recorded in Latin America (22%), Europe (14%) and the emerging markets (13%).
Gross margin in the quarter, however, was down 3.2 percentage points to 49%, while net income attributable to shareholders jumped 54% to EUR167m.
For the full year, currency-neutral revenues increased 6%, despite supply chain shortages, which the company had experienced following a strong increase in demand for mid-priced apparel. Growth was again driven by a 7% improvement at brand Adidas.
Gross margin increased 0.2 percentage points to 52%, while earnings attributable to shareholders was up 16.1% to EUR1.98bn.
"In 2019, we proved our resilience and delivered a strong year yet again," said CEO Kasper Rorsted. "We recorded revenue increases across all regions and our direct-to-consumer business grew double-digits driven by e-commerce, one of our strategic growth areas.
"Following the outbreak of the coronavirus, our business in Greater China has experienced a significant negative impact since Chinese New Year. As the situation keeps evolving, we cannot yet reliably quantify the magnitude of the overall financial impact in 2020."
Several brands and retailers have expressed concern in recent weeks over the impact coronavirus is likely to have on sales in the short-term, but also supply-chain disruption. Earlier today, Puma also sounded a warning over sales as a result of the outbreak.
Click here for additional insight on the coronavirus outbreak: Is coronavirus a threat to the clothing industry?