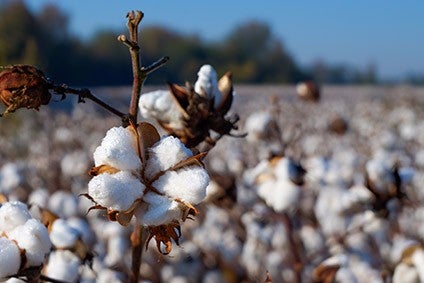 Africa's policymakers are being urged to support preferred cotton at a time when the adoption of the genetically modified form is on the rise, with experts saying if this continues at scale, it may pose a threat to the future of the cotton industry.
The new Textile Exchange Pan-Africa Sourcing Working Group white paper, 'Cotton in Africa: Sustainability at a Crossoads' , suggests Africa had been on the sidelines when it came to GM technology adoption around the world, until recently. Over the last few years, an increasing number of African countries have approved or are considering adopting this technology.
Some of the concerns the paper raises include GM crop adoption being a particularly costly risk to cash-poor farmers when financial loss occurs as a result of crop failure, which could limit their ability to purchase GM seed and associated inputs for the following season; insect and weed resistance associated with growing the crop; and that it is near impossble to stop cross-contamination between GM and non-GM crops.
Noting the global sustainable textile cotton industry's increasing demand for organic and GM-free preferred cotton, and given concerns about the environmental and economic ramifications of GM cotton, the Working Group urges policymakers in Africa to support preferred cotton production standards which prohibit genetic modification such as organic, Fairtrade, and Cotton made in Africa (CmiA). The white paper outlines the risks of scaling GM cotton in Africa and the opportunities of organic and GM-free preferred cotton standards.
"With relatively little penetration of GM cotton, African countries have an opportunity to learn from other countries' experiences of GM technology and weigh the pros and cons," says Liesl Truscott, Textile Exchange director of European and materials strategy. "Demand for organic and other non-GM cotton continues to increase and, keeping in mind the genetic biodiversity and resilience that local seed varieties can offer, we hope this report creates food for thought for decision-makers at all levels. In the journey toward regenerative organic fiber production, it is vital for countries to allow for GM-free cotton initiatives based on organic practices and the precautionary principle to flourish."
Prama Bhardwaj, CEO and founder of Mantis World and chair of the Pan-Africa Sourcing Working Group, urges African cotton producers to "choose to grow organic cotton which can be integrated into the growing African sustainable textile supply chain or used by manufacturers in Europe and the Middle East," all of which are striving to meet United Nations Sustainable Development Goals addressing responsible production as well as industry commitments.
According to Textile Exchange's 2019 Organic Cotton Market Report, global production of organic cotton saw impressive growth between 2016/17 and 2017/18, increasing 56% to 180,971 metric tonnes (831,193 bales). Africa accounted for approximately 4% of global organic cotton production in 2017/18, experiencing a 20% increase over 2016/17. Approximately 37,000 farmers in eight countries grow organic cotton; Tanzania is by far the largest organic cotton producing country on the continent, followed (in order of volume) by Uganda, Benin, Burkina Faso, Mali, Egypt, Ethiopia, and Senegal.
Several Working Group brands source organic cotton from Africa, including Cotonea, Mantis World, and Mayamiko.
"Africa is at a crossroads," says La Rhea Pepper, Textile Exchange managing director. "It is key for governments, farmers, and other stakeholders to recognise the importance of protecting the right of farmers to grow non-GM crops. Organic agriculture is a proven system for sequestering carbon, building soil health and biodiversity, and increasing food security. Introducing GM agriculture requires the implementation of stringent biosafety regulations as well as investment in non-GM seed and training to ensure coexistence with organic agriculture."
Click here for the full report.