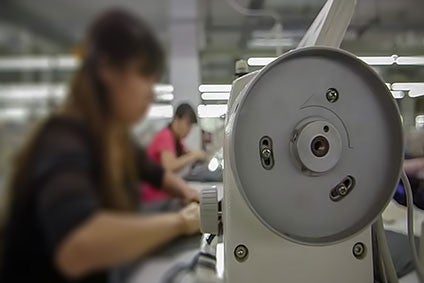 ALDI NORD, Aldi Sud and Lidl have each implemented a new policy not to ask factories for price reductions/discounts relative to comparable items with last season, in an attempt to ensure workers in its supply chain are protected from the fallout of the Covid-19 pandemic.
Human rights charity, Business & Human Rights Resource Centre, invited 50 fashion companies to respond to questions regarding responsible actions taken to respond to garment workers' rights during the pandemic, the results of which it has compiled in a just-published report.
The survey was carried out this month in a follow-up to one conducted at the start of the pandemic in March. The most recent study comprised the original 35 companies and an additional 15, seeking responses from 50 companies. Of these, 34 responded.
More than half (29) of the brands recorded profits since the onset of the pandemic. Of these, nine have still not committed to pay for all orders, while ten did not respond to the survey.
Of the brands that responded:
20 brands indicated they had received reports of non-payment of full salaries for garment workers between March and October.
All 20 said that they were actively involved in resolving these payment disputes.
25 indicated they are monitoring if garment workers are receiving all outstanding wages and legally mandated severance payments when they lose their jobs
Just three companies, Aldi Nord, Aldi Sud and Lidl said they have implemented a new policy not to ask factories for price reductions/discounts relative to comparable items with last season.
Aldi Nord and Aldi Sud both said they have developed a document on ethical purchasing practices in times of Covid-19 for its buying department. The document summarises the recommendations of major international organisations.
And as members of the German Partnership for Sustainable Textiles, they also participated in the development of a guideline, which contains recommendations for handling orders as well as health risks in production facilities.
Other initiatives Aldi Nord has undertaken include supporting suppliers with access to local finance. It also confirmed its commitment to paying in full for all in-production and completed orders and that it had not requested discounts on any orders.
Meanwhile, Lidl confirmed it had not cancelled any orders from its factories and is in "continuous dialogue" with its purchasers to avoid any negative impact on its supply chain actors. It is also actively involved in ensuring workers are paid outstanding wages, severance and benefits.
Elsewhere, Calvin Klein-owner PVH Corp said it had implemented a pandemic policy with factory suppliers to ensure vulnerable workers are not being disproportionately targeted for layoffs, a further 25 brands said this was part of a pre-existing policy, seven of which added they had recently reiterated this policy to their suppliers.
Thulsi Narayanasamy, senior labour rights lead, Business & Human Rights Resource Centre, said: "At the start of the pandemic, fashion brands said they had 'no option' but to cancel orders and protect their bottom line, regardless of what that meant for 60 million vulnerable garment workers around the world. Since then, garment workers have lost up to US$5.8bn in wages, faced discriminatory layoffs in countries with no safety net, and factory suppliers are still being mercilessly squeezed by brands on prices, struggling to stay afloat or pay worker wages.
"Our findings show the fashion industry thinks it can continue with a 'business-as-usual' approach, sticking to the same policies and practices they used before the pandemic. But what garment workers are facing is nothing short of complete upheaval and crisis. For workers already paid so little, to lose their jobs or not receive a full wage is the difference between feeding your family or not.
"The internal decisions brands make – how they negotiate prices of clothes, or whether they monitor what happens in factories – has a direct impact on the lives and livelihoods of the people that make our clothes. We know brands can do better because three out of the 50 we surveyed, including Lidl and Aldi, have stepped up and responded to the particular suffering during this pandemic."