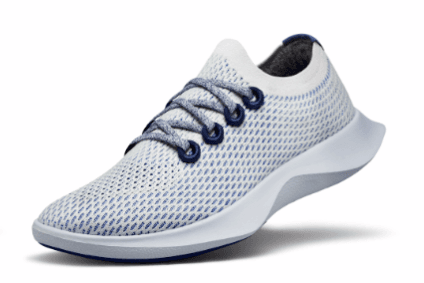 Sustainable footwear brand Allbirds has entered the performance market with the launch of its first running shoe made from renewable natural materials including eucalyptus tree fibre, Merino wool, and sugarcane – and is the first Allbirds product to display a physical Carbon Count label.
Released today (28 April), the Dasher features a lightweight mesh upper made from Tencel Lyocell, which not only has cooling and breathable properties but uses 95% less water to produce than traditional footwear materials, according to the firm.
The upper also has an anti-microbial Merino wool lining to keep the foot cool and utilises recycled polyester, while the dual-density midsole is made from SweetFoam, Allbirds's carbon negative green EVA solution, which is derived from renewable sugarcane.
The Dasher will be the first Allbirds product to display a physical Carbon Count label, which takes into consideration materials, development, manufacturing, and end of life. The shoe emits 9kg of carbon dioxide per pair, nearly 30% lower than the estimated average sneaker, Allbirds says.
"Through responsible sourcing techniques, such as regenerative farming and new innovations, the natural materials used in the shoe could actually sequester more carbon out of the atmosphere than it takes to produce – ultimately becoming carbon negative," it adds.
Earlier this month, Allbirds revealed plans to label all of its products with a carbon footprint, with the ultimate aim of getting shoppers "to start thinking about carbon the same way they do calories."
"For too long, the performance industry told us that athletic footwear meant synthetic footwear. By failing to make the most of what's right in front of us – nature – we've missed some of the greatest performance materials in existence. Our multi-year journey to create the Dasher demonstrates what's possible if we put the kind of innovation muscle into natural materials that's usually reserved for petroleum-derived synthetics," Tim Brown, co-founder and co-CEO of Allbirds says.
The Dasher is available in four limited-edition colourways and is available now priced at GBP120 (US$150).