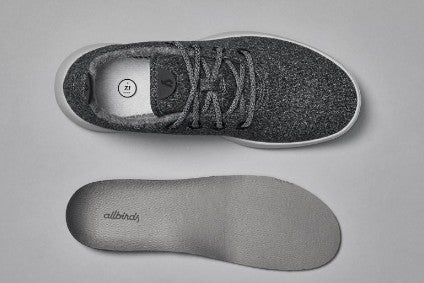 Sustainable footwear and apparel company Allbirds is open-sourcing a version of its proprietary Carbon Calculator to encourage the fashion industry to commit to a low carbon future.
Coinciding with Earth Day today (22 April), Allbirds is making the third-party verified life cycle assessment (LCA) tool available at FreeTheFootprint.com.
The company last year revealed plans to label all of its products with a carbon footprint, with the ultimate aim of getting shoppers "to start thinking about carbon the same way they do calories."
Its Dasher performance shoe was the first to display a physical Carbon Count label, which takes into consideration materials, development, manufacturing, and end of life. The shoe emits 9kg of carbon dioxide per pair, nearly 30% lower than the estimated average sneaker, Allbirds says.
In addition, it is issuing a call to action for consumers to urge the fashion industry to label the carbon footprint of their products.
Allbirds recently pledged that by the end of 2025, 100% of its wool will come from regenerative sources, and all of its annual on-farm emissions from wool will be reduced or sequestered.