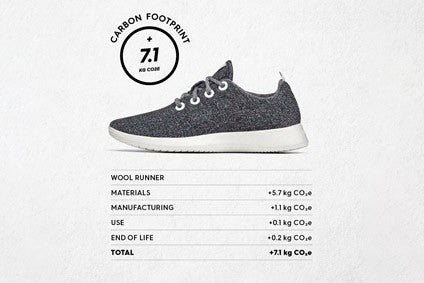 Sustainable footwear brand Allbirds is to label all of its products with a carbon footprint, with the ultimate aim of getting shoppers "to start thinking about carbon the same way they do calories."
Allbirds claims the move makes it the first fashion brand to label every product with a carbon footprint. The firm has developed a Life Cycle Assessment tool with third-party carbon experts to meticulously measure the carbon intensity of every decision it makes – from materials to development, manufacturing, and end of life.
The ambition is to change consumer behaviour so that one day, shoppers will compare carbon numbers like they do nutritional labels in the supermarket.
The company, which went 100% carbon neutral last year, is working to drive its emissions to zero and says knowing its impact and sharing it with the world is the first step toward a solution.
"Starting now, we're adding our carbon footprint to every product we make. Just like nutrition labels on food, we want the world to see how much carbon is emitted when an Allbirds product is created," the company says in a video announcing the move on its website and social media channels.
"At every stage, from sourcing materials to designing, manufacturing and even disposal, we measure the carbon footprint of our products to help you see the impact of everything we make and hold ourselves accountable. Our footprint isn't zero yet but it can be and so can everyone else's."
Moving forward, each product will come with a sticker under the insole that shows the product's carbon footprint – 7.6 kg CO2e is the average for its footwear. The figure compares to a standard sneaker that Allbirds says has a carbon footprint of 12.5 kg CO2e. The brand's Wool Runner sneaker has a carbon footprint of 7.1 kg CO2e.
The move follows the introduction last year of Allbirds' Carbon Fund, a self-imposed tax that supports 100% carbon neutrality and funds verified emissions reductions projects across air, wind, and energy.
"Our ambition is to be like a tree, leaving the environment cleaner than we found it. That's why we believe in the power of natural materials, and their potential to transform ecosystems. We're looking beyond carbon neutrality, which means eventually, our business will be carbon negative," Allbirds says.