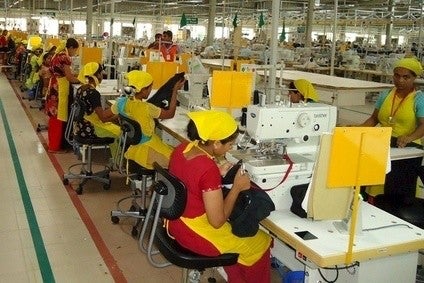 A group of former members of the now-defunct Alliance for Bangladesh Worker Safety has teamed up with several other brands to launch Nirapon, a voluntary programme tasked with overseeing the ongoing safety, training and helpline efforts in Bangladesh ready-made garment factories.
Over 20 brands and retailers are backing the new organisation, including The Children's Place, Walmart, VF Corp, Nordstrom, Target, Macy's, JC Penney, Gap Inc, Abercrombie & Fitch, and Li & Fung.
The new locally managed body will monitor 600 factories from which its member brands source to verify that they continue to meet the National Action Plan's standards for physical safety (structural, fire, and electrical); have implemented standardised training programmes focused on worker safety; and continue to make the Amader Kotha helpline service available to factory workers.
Based in Dhaka, it will serve as a single point of contact between its members and the factories, and will also focus on building local capacity to manage fire and building safety to sustain the investments in worker safety that have been made to date.
Its formation follows the wind-down of the buyer-backed Alliance for Bangladesh Worker Safety at the end of 2018.
Factories will work directly with vetted Qualified Assessment Firms (QAFs), who will carry out routine inspections, while the factories and their consultants will perform routine maintenance and any needed remediation. All reports from the QAFs, as well as bi-monthly maintenance reports from the factories, will be sent to Nirapon, which will gather documentary and photographic evidence of key work and will perform random validation visits from a 10% sample of factories for quality assurance purposes.
Factories will also work directly with approved Local Training Providers (LTPs) and the Amader Kotha Helpline. Direct verification of the factories' day-to-day safety training and helpline requirements will be provided by the LTPs.
Nirapon will confirm that factories adhere to annual training requirements, which include the continuation of the worker, security guard, and helpline safety trainings first established by the Alliance, as well as the introduction of factory mid-manager safety maintenance training; and the use of the 24-7 Amader Kotha helpline which allows garment workers to report and resolve substantive issues in their factories, ranging from emergencies and urgent safety concerns to workplace abuse and wage compensation disputes.
However, Nirapon is not a regulatory agency and will not publicly identify factories that are not meeting performance standards or recommend factories for closure. This, it says, is one of its key points of difference with the Alliance and the Accord on Fire and Building Safety in Bangladesh. Instead, it will be up to Nirapon member-buyers to decide on how best to address issues with their suppliers and factories.
Under Nirapon, member brands have committed to maintaining high standards of safety in the factories from which they source. Nirapon will report engineering, safety and training updates to the member brands along with the assessment and factory status. When a report is received from Nirapon, the brand can then make informed sourcing decisions for any assessed factory based on the status given to the factory.
"Following Rana Plaza, Bangladesh has made tremendous progress towards building a safer RMG industry," says Moushumi Khan, chief executive officer of Nirapon. "Now, moving forward, Nirapon is poised to drive efficiencies and help maintain a critical focus on the rights of workers to a safe workplace."