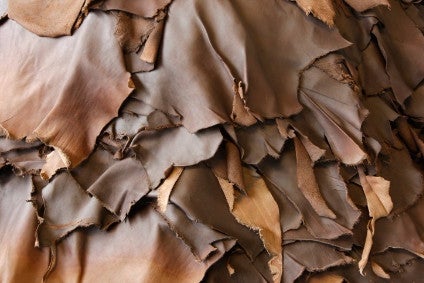 US start-up Mycoworks has secured US$45m in Series B funding which allows it to scale production of its "vegan leather", Reishi.
The company, which is based in San Francisco, uses its patented Fine Mycelium technology to create Reishi which it describes as a new class of sustainable material that performs like cowhide leather.
In comparison to mushroom leathers, it says Reishi "is a world ahead" in strength, durability, and hand feel in comparison to other similar materials in the marketplace.
Sheets of Reishi's interwoven Fine Mycelium cells are grown to size and can be finely-tuned as it's cultivated. This allows brands to think from material construction up, offering new design possibilities, MycoWorks says. The Reishi sheets are then finished by traditional tanneries with green, chrome-free chemistry.
The closing of its Series B financing, which was co-led by WTT Investment Ltd (Taipei, Taiwan) and DCVC Bio, coincides with the company's opening of a major new Reishi production plant in Emeryville, California. This facility will be used to meet the "extraordinary demand" for Reishi materials, and introduces proprietary systems to enhance productivity and to allow for further scaling of the business. The new plant increases production capacity ten-fold together with this new funding, will pave the way for additional plants that are currently being designed and sited.
"At MycoWorks, we've created a biotech platform for the fashion and luxury industries that delivers the highest quality, most versatile natural materials on Earth. Our vision is to grow the future of materials. We have found partners in these investors who see the long-term potential for MycoWorks to transform many industries with our patented Fine Mycelium technology," said Matt Scullin, MycoWorks CEO
"Our customers, major global luxury and footwear brands, require the utmost quality and performance in their finished goods. They recognise that Fine Mycelium is the key to achieving this along with unmatched product sustainability and versatility."
New investors Valor Equity Partners, Humboldt Fund, Gruss & Co, and existing investors Novo Holdings, 8VC, SOSV, AgFunder, Wireframe Ventures, and Tony Fadell also participated in the investment round, in addition to actress Natalie Portman, singer-songwriter John Legend, and several major fashion brands.
The financing is understood to follow a Series A $17m investment round in February which brings the total funding to $62m.
MycoWorks says consumers will see the first products made with Reishi in the coming months.