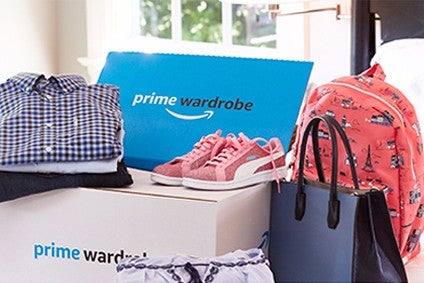 Amazon is stealing apparel sales from the likes of Target , Macy's , JC Penney and Kohl's , a new survey has found, as the online retail behemoth ramps up its efforts to grow its share of the fashion market.
In January 2018, Instinet estimated Amazon's global apparel sales in 2016 were somewhere between US$18bn and $36bn, based on the category accounting for between 10% and 20% of Amazon's total gross merchandise volume. Cowen & Co, meanwhile, predicts Amazon's clothing sales could reach $85bn by 2020.
The e-retailing giant has made no secret of its desire to dominate in the apparel space. As well as launching its own brands, Amazon has taken on a raft of brands such as NIKE , Under Armour and Hanes – now the most popular apparel brands on its site.
It also launched Prime Wardrobe last year – a try before you buy and only pay for what you keep, service – and the Echo Look personal shopping app.
Amazon's expansion into apparel is one of the hottest topics in US retail, not least because many commentators link the ongoing woes of major department stores to shoppers shifting more of their apparel spending to Amazon Fashion. Yet hard data on Amazon's share of the clothing and footwear markets is scarce, given the company's limited disclosure on category sales.
According to a survey carried out by Coresite Research, Amazon Fashion is tied with Target as the second-most-shopped apparel retailer in the US, behind Walmart, as measured by number of shoppers.
More than 20% of respondents said they have switched more of their apparel spending to Amazon and away from Macy's and JC Penney.
Yet Amazon's fashion business is underpinned by those who are already members of the site, according to the survey. While 46% of all apparel shoppers surveyed said they had bought clothes or shoes on Amazon in the past year, almost two-thirds of Prime members had done so, the research firm found.
"Prime membership is the principal support for Amazon's apparel expansion, as Prime members show a much higher tendency than the average consumer to buy apparel on the site," Deborah Weinswig, managing director of Coresite Research, explains. "Prime membership has trended strongly upward in the recent past. [It] will, in the near term at least, be the foundation on which Amazon will build greater share in the apparel category."
The biggest battle in apparel, however, may actually be Amazon versus Target , the research suggests.
When Amazon clothing and footwear shoppers were asked which retailers they had switched apparel spending from, the number one answer was Target . And Target apparel shoppers are more likely than average and more likely than those shopping for apparel at most other major retailers to have an Amazon Prime membership.
While some commentators have argued the Amazon website is not equipped to provide a quality experience for browsing, searching and discovering fashion ranges, around 65% cited the ease of browsing and searching Amazon Fashion as a reason for buying clothing or footwear on the site. This was ahead of factors such as choice and price.
The risk, however, is that Amazon could be being viewed as an off-price retailer. Fully 48% of all Amazon apparel shoppers expect to always pay less than full price on the site, while only 12% shop on Amazon because its fashion ranges are up to date.
"We have long considered Amazon akin to an off-price retailer, with a product offering that is heavy on out-of-season ranges that are typically sold below full price," says Weinswig. "Our research confirms Amazon still has a ways to go before consumers perceive it as a full-price, full-line retailer."
Yet she believes Amazon appears to be tackling these perceptions already. "Its work in building out its private-label ranges and bringing brands such as NIKE on board should support its move into the mainstream as a full-line fashion retailer."