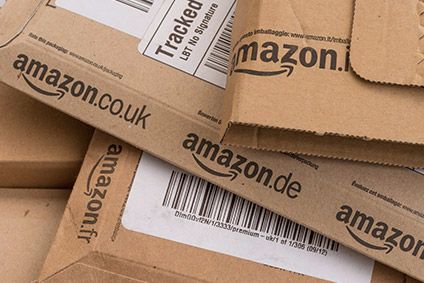 The Office of the US Trade Representative (USTR) has place five of Amazon's country websites on its 'Notorious Markets' list as it moves to crack down further on fakes entering the country.
In a 49-page annual report into intellectual property violations, piracy and counterfeiting, the USTR named Amazon domains registered in the UK, Canada, France, Germany and India as markets it would be adding to the list of notorious markets that facilitate the sale of counterfeit and pirated products.
The investigations are conducted following complaints from US businesses over the sale of fake goods.
Complainants said it is difficult for consumers and right holders to determine who is selling the goods and that anyone can easily become a seller on the platform since Amazon does not sufficiently vet sellers. They added counterfeit removal processes can be lengthy and burdensome, even for right holders that enrol in Amazon's brand protection programmes.
"In addition, as the scale and sophistication of the counterfeiters have continued to grow and evolve over the years, these right holders indicate that Amazon should commit the resources necessary to make their brand protection programs scalable, transparent, and most importantly, effective," the report notes.
"More specifically, they ask that Amazon take additional actions to address their concerns, including by collecting sufficient information from sellers to prevent repeat infringers from creating multiple storefronts on the platforms, making detailed information about the real seller of a product obvious to consumers and right holders, being more responsive to complaints of counterfeits by right holders, and being more proactive in preventing counterfeit goods from appearing on the platform."
The US has been looking at ways to double down on blocking counterfeit goods from entering the market for some time.
In February, President Donald Trump passed an executive order (EO) aimed at preventing the entry of fake goods into the country sold to US citizens online. It followed a report from the Department of Homeland Security which said fake goods being trafficked to American consumers through online third-party marketplaces is threatening both the public health and safety as well as national security.
According to the US National Intellectual Property Rights Coordination Center (IPR Center), clothing and footwear are among the top five most highly pirated goods. In October last year, US border police seized over US$22m in fake Nike shoes.
The American Apparel & Footwear Association (AAFA) has previously taken aim at Amazon for the way it handles counterfeits and intellectual property infringement, and called for more of the retail giant's sites to be added to its Notorious Markets list.
Following the USTR's decision, AAFA president and CEO, Steve Lamar, says the organisation "steadfastly advocates for our members' intellectual property – such as their brands, their designs, and their innovations.
"We have been particularly focused on drawing attention to the counterfeits that too often plague foreign and domestic third-party marketplaces."
The AAFA says it has identified 130 physical marketplaces and eight online marketplaces that member companies identified as engaging in and facilitating substantial trademark counterfeiting and copyright piracy.
"Unfortunately, consumers are learning the hard way that counterfeits affect more than lost sales for famous brands. They also expose purchasers of everyday basics and essentials to a range of quality concerns and product safety risks. It is essential that both domestic and worldwide marketplaces, and the countries that house them, implement effective and proactive measures to safeguard intellectual property to protect consumers, workers, and their families."
"Slap in the face"
But Parcelhero, a US deliveries specialist, says the move is a "slap in the face" for British sellers, and could have a significant impact on their future US sales.
"Tarring Amazon UK retailers with the same brush as many questionable trading and download sites is out of all proportion and it's also a slap in the face for UK sellers legitimately selling properly branded products to the US."
Commenting on the decision, a spokesperson for Amazon told just-style it supports strong penalties against bad actors and has worked with brands and law enforcement to hold them accountable but "strongly disagrees" with the report and calls the move "politically motivated."
"This purely political act is another example of the Administration using the US government to advance a personal vendetta against Amazon. Amazon makes significant investments in proactive technologies and processes to detect and stop bad actors and potentially counterfeit products from being sold in our stores. In 2019 alone, we invested over $500m and have more than 8,000 employees protecting our store from fraud and abuse. We also stopped over 2.5m suspected bad actors from opening Amazon selling accounts before they published a single listing for sale, blocking more than 6bn suspected bad listings before they were published to our stores.
"We have developed industry-leading programmes like Project Zero, Transparency, and Brand Registry for brands to partner with us and together, drive counterfeits to zero. More than 99.9% of pages viewed by customers on Amazon have never had a report of counterfeit. We also work closely with law enforcement agencies and are reporting all confirmed counterfeiters to help them build stronger criminal cases."