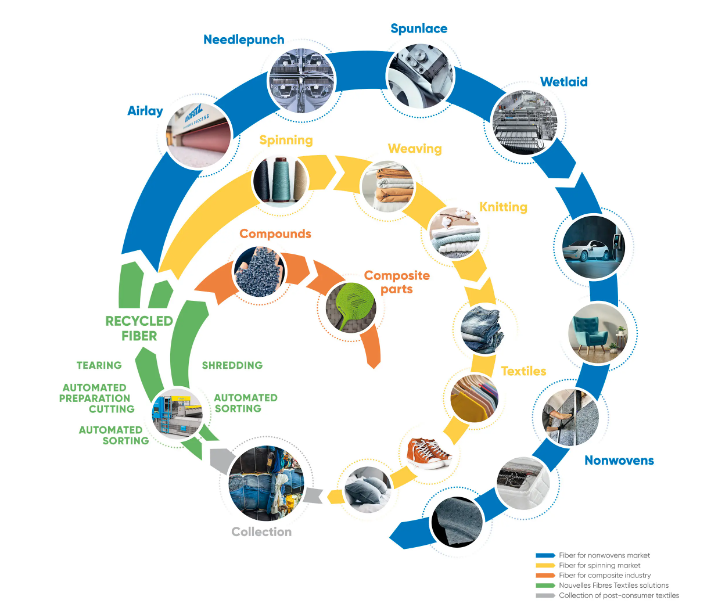 International technology group Andritz has joined forces with Pellenc ST and Nouvelles Fibres Textiles to establish the first industrial-scale automatic textile sorting line in France. The collaboration combines the expertise of the three partners in sorting technologies, textile machinery, and post-consumer textile value chains, respectively.
The new textile sorting line will leverage Pellenc ST's automated sorting technologies and Andritz's recycling technologies to process post-consumer textile waste, producing recycled fibre for the spinning, nonwoven, and composite industries.
The line is scheduled to commence operations in mid-2023 and will serve as a production line for Nouvelles Fibres Textiles, an R&D line for the partners, and a test and demonstration centre for their customers.
Nouvelles Fibres Textiles aims to become a reference in both industrial-grade material production and industrial-scale post-consumer textile sorting, thanks to innovative technologies with hard point removal providing pure fibres, selective colours, and differentiated fibre types.
Eric Boël, president of Nouvelles Fibres Textiles said: "We are very proud to announce the launch of the Nouvelles Fibres Textiles partnership. Several years of R&D involving key players from both textile and household waste management industries made this possible. We all shared our knowledge and expertise to promote on-the-ground circularity for textiles by full integration of the value chain. This guarantees traceability of recycled materials, mitigates the textile and composites industries' environmental impacts and reduces their carbon footprint while creating meaningful jobs."
The new partnership marks a major milestone in industrial-scale recycling technology for textile circularity and demonstrates the commitment of the partners to sustainability and innovation in the textile industry.
Another company pushing for industrial-scale recycling is Inditex, which a contributed $30m funding round to help circular fashion company Circ expand its poly-cotton recycler designed to recycle clothing and eliminate clothing waste.