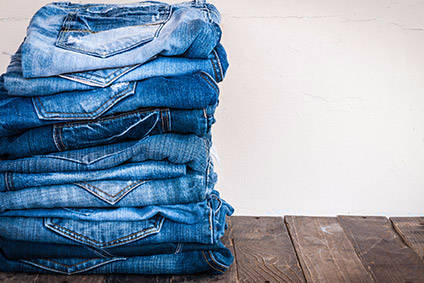 In a bid to implement a "robust" chemical management scheme and strengthen its sustainability performance, Indian denim specialist Anubha Industries Ltd has announced a strategic partnership with textile chemicals management system Bluesign Technologies.
The move, announced at last week's Kingpins New York event, sees Anubha become the first denim textile manufacturer system partner in India and grants the company access to Bluesign's Bluefinder for chemical management throughout its supply chain.
"We are proud to become a Bluesign system partner," says managing director Aditya Goyal. "With laser focused approach on increasing transparency and environmental management performance we are determined to further improve the sustainability of our entire supply chain. We consistently commit to the goal of becoming the most sustainable denim company in India."
The Bluesign system, a solution for sustainable textile production adopted by more than 500 leading companies worldwide, eliminates harmful substances right from the beginning of the manufacturing process and sets and controls standards for environmentally friendly and safe textile production. This ensures the final products meet very stringent consumer safety requirements and also serves as a reliable indicator of sustainability for consumers.
With the Bluefinder, suppliers can access a database of chemicals that have received Bluesign approval following a thorough analysis of hazards and risks, enabling them to effectively manage the chemicals they use and ensure sustainability.
Headquartered in Surat, with over 500 employees, Anubha is a specialist for denim and advanced fabric solutions including, denim, polyester, linen, viscose, nylon yarn, dispersed dyed and other technical fabrics. The company manages the complete industrial chain, from fabric to finished product and has invested in facilities equipped with rope dyeing, weaving, finishing, coating, printing and material testing.
Now, it aims to use only clean chemistry in the entire denim manufacturing process through responsible sourcing using Bluesign approved products. The development of an input stream management in the production process will help to achieve standards for an environmentally friendly and safe production and will enable us to provide our customers with sustainable products, says the company.
And joining Bluesign allows Anubha to work towards these targets in a very efficient way, focusing on all issues related to Environment, Health and Safety (EHS). Bluesign offers a reliable framework for supplier certification that can ensure EHS issues, including chemicals, are managed properly.
"We are glad to be partnering with Anubha as our first denim textile manufacturer system partner in India," says Bluesign CEO Jill Dumain. "Anubha has shown its commitment towards sustainable denim production and we are proud they have chosen Bluesign Technologies as their partner for chemical management to drive sustainability performance. Together with Anubha, we strengthen our aim to create a responsible denim supply chain for a more sustainable fashion industry."