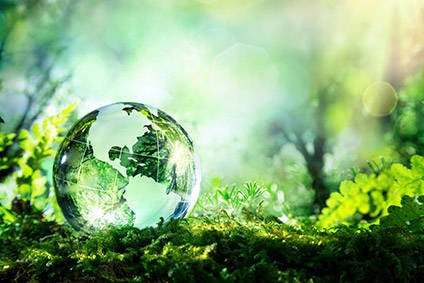 More than 45 textile, apparel and retail companies—including Adidas, Eileen Fisher, Gap Inc, H&M, Lindex, Target, and Timberland—have pledged to commit to or support an increase in their use of recycled polyester (rPET) by at least 25% by 2020.
Announced at last week's Textile Exchange Sustainability Conference in Washington DC, the pledge was organised by the global non-profit, which works to promote the adoption of preferred fibre and materials, integrity and standards and responsible supply networks, through its Recycled Polyester Working Group.
It aims to substantially increase global availability of rPET and drive rPET production efficiencies and is in-line with the UN Sustainable Development Goal target 12 (Responsible Consumption and Production), which encourages "industries, businesses and consumers to recycle and reduce waste".
The participating companies represent the diverse elements of the value chain, including brands, retailers, suppliers and associated industry organisations.
"We believe that supporting, on a pre-competitive basis, investment in further developing rPET production around the globe, will lead to more efficient supply chains and increase the availability of more sustainable fibre choices in the market," explains Karla Magruder, Textile Exchange board member and sustainability consultant, who led the effort through the non-profit's rPET Working Group.
The commitment will be tracked via participation in the polyester module of Textile Exchange's annual 'Preferred Fiber and Materials Benchmark Survey', while the baseline for measuring progress will be the usage published in the '2017 Textile Exchange Preferred Fiber and Materials Market Report' (PFMR). According to the PFMR, participant rPET usage is 47,407 mt.
Textile Exchange expects a 25% increase by 2020 to provide the following benefits:
2,868,000,000 bottles diverted from landfill;
35,329,509 kg reduction in human toxicity;
1,849,464 MJ saved on primary energy demand; and
122,823 kg reduced Co2.
"We're excited to increase not only the amount of recycled polyester we source, but also the depth of our engagement within the rPET supply chain," says Timberland environmental stewardship manager Zachary Angelini. "We believe rPET can go beyond environmental impact to have social benefits for vulnerable populations.
"We're especially excited to scale the effort through our partnership with Thread, a B Corporation that transforms trash from the developing world into recycled polyester, strategically creating transparent and dignified supply chains in Haiti, Honduras and Taiwan."
Meanwhile, it was also announced at the conference that another 23 apparel and footwear brands including Adidas, Burberry, and Timberland have joined a pledge to use 100% sustainable cotton by 2025. The move means the so-called Sustainable Cotton Communiqué has now been signed by 36 major brands and retailers.
In addition, a number of high profile initiatives were launched at the conference in a bid to tackle pesticide use in cotton farming – but a new investigation suggests the decline has not been as substantial as some believe.