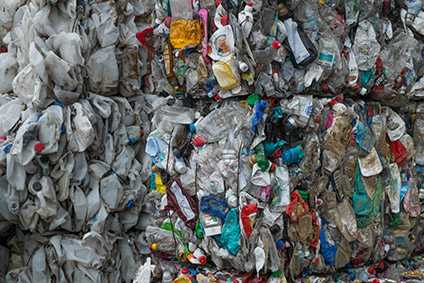 A progress report on global efforts to prevent plastic pollution has praised clothing retailers for their efforts so far to reduce plastic packaging but has called for more work to be done with businesses being urged to set ambitious reduction targets and take bold action on unrecyclable packaging types.
According to the 'Global Commitment 2020 Progress Report' from the UN Environment Program (UNEP), New Plastics Academy, and the Ellen Macarthur Foundation, there has been significant progress in two key areas: the incorporation of recycled content in plastic packaging, and the phase-out of the most commonly identified problematic items, such as PS and PVC packaging, undetectable carbon black pigments, and single-use plastic bags.
But progress on shifting towards reusable packaging is limited, and elimination efforts remain focused on a relatively small set of materials and formats.
There are also significant differences in the rate of progress between signatories – while some have taken big steps forward, others have shown little to no progress against quantitative targets.
Launched in October 2018, the 'New Plastics Economy Global Commitment' now unites more than 500 organisations behind a common vision of a circular economy for plastics, in which plastics never become waste.
Garment and footwear sector 2019 progress
Specifically to clothing, footwear, and accessories, many fashion brands in 2019 showed they were taking steps to remove single-use plastic
poly-bags, e-commerce shipping packaging, and hangers, with most single-use shopping bags already being eliminated. A number of reported examples involved substitution with paper or cardboard alternatives.
ASOS removed 70,000 plastic hangers and 20m swing tickets and plastic kimbals from its Design brand, as well as all plastic collars used across formal wear. The company is also planning to eliminate LDPE pillow bags inside handbags and rucksacks, plastic moulds for rigidity in hats, as well as LDPE plastic bags containing spare buttons, sequins, and beads by the end of 2020.
H&M Group has tested solutions to eliminate poly-bags in its supply chain, including shipping e-commerce orders in paper instead of plastic bags. The company is aiming to completely eliminate a number of categories of plastic packaging from its portfolio by 2025 – or before – including PS, multi-layer materials, undetectable carbon black, poly-bags, sachets, single-use carrier bags, single-use hangers, plastic windows, and tear-offs.
Inditex has eliminated single-use plastic outer bags that protect cardboard boxes for online orders for its Zara Home – it will eliminate 100% of the bags across all brands in 2020, and also plans to phase out EPS by 2023.
Superdry Plc swapped its underwear boxes from unrecyclable rigid PP to a recyclable cardboard alternative with a cut-out window instead of plastic window, substituted ridged unrecyclable PP hangers for socks and flip flops to cardboard, and plans to remove plastic single-use hangers for women's swimwear by 2023.
The report also noted there has been some progress made toward reuse models.
A number of signatories were working on reusable hanger schemes or trialling solutions for poly-bags in their supply chain and e-commerce
packaging.
Asos is planning to run a pilot for 2,000 reusable e-commerce bags in 2020. The company calculated that for every 100 orders fulfilled with reusable packaging, it will save 2.65kg of single-use packaging and 29kg of CO2, and if rolled out throughout the United Kingdom, 730 tonnes of plastic could be saved per year.
In addition, Inditex has implemented reusable hangers in all its Zara stores across the world as part of its 'Single hanger' project, where the same hangers are used to transport garments from the suppliers to the stores, and subsequently for display, with the hangers continuously reused through closed-loop systems.
Meanwhile, signatories in the sector reported that 7% of its packaging as being recyclable.
Highlights include Inditex working with its suppliers to improve traceability and ensure that packaging is recyclable. The company is working on recycling and reuse channels for its headquarters, factories, logistics centres, and stores. In 2019, 893 metric tonnes of plastic from these channels were sent to recycling, report authors state.
Superdry, meanwhile, has developed a process for garment poly-bags to be removed at its distribution centres so that they can be collected in bulk and returned to the manufacturer for recycling.
A series of initiatives have been rolled out across the industry in recent months as part of a move away from plastic packaging and greater recognition of the need to develop more sustainable alternatives.
Most recently, Mango vowed to eliminate the use of 160m plastic bags per year in its supply chain, while Outerknown has also announced plans to switch from plastic poly-bags to paper bags.
Overall signatory progress
In terms of progress made in 2019 by all signatories,
Recycled content in packaging grew by 22% year on year, showing an encouraging trajectory towards 2025 post-consumer recycled content (PCR) targets.
31% of packaged goods and retail signatories — 18 in total — now have targets in place to reduce virgin plastic in packaging or reduce plastic packaging altogether. A further 37% indicated they are looking into establishing them
More signatories are eliminating packaging and materials commonly identified as problematic or unnecessary, such as PS, PVC, PVDC, undetectable carbon black, single-use plastic bags and straws.
More businesses are testing and piloting reuse models.
Measurement and transparency on plastics use is increasing.
Substantial investments towards achieving the 2025 targets have been reported, bringing the total amount publicly committed by Global Commitment signatories to more than US$10bn.
The coalition says while it is encouraging to see initial progress being made by signatories in year one after signing the Global Commitment, a substantial acceleration of progress will be needed to achieve the 2025 targets.
It makes four calls to action that are vital to eradicating plastic pollution:
Businesses should:
Take bold action on packaging types that are not recyclable today — either developing and executing a credible roadmap to make recycling work, or decisively innovating away from them
Set ambitious reduction targets
Governments should:
Establish policies and mechanisms, that provide dedicated and stable funding for collection and sorting, through fair industry contributions, such as EPR, without which recycling is unlikely to ever scale
Set a global direction and create an international framework for action, through the UN Environment Assembly, building on the vision for a circular economy for plastics
"This report shows encouraging progress towards the vision for a circular economy for plastic in some areas, particularly in the use of recycled plastic. But, going forward it will be crucial to also see major steps forward in rethinking what packaging is put on the market in the first place," says Sander Defruyt, new plastics economy lead at the Ellen MacArthur Foundation.
"We are calling on industry to rapidly increase efforts to reduce single-use packaging and eliminate packaging types that have no credible pathway to making recycling work in practice and at scale. We know industry cannot deliver the change alone, and we are calling on policymakers to put in place the enabling conditions, incentives and international framework to accelerate this transition."