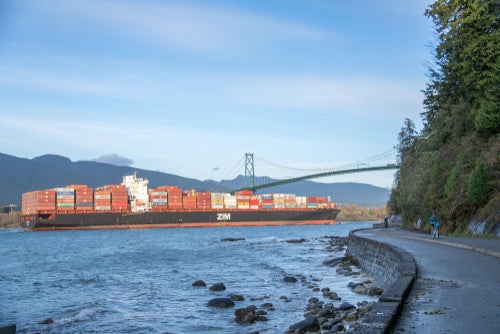 Apparel Textile Sourcing Canada took place at in Toronto from 7-9 November, marking its first in-person trade event on Canadian soil since 2019. The event was originally scheduled for August 2020 and had been postponed for more than two years due to the pandemic.
The sourcing show reintroduced its retail audience of 2,000 attendees including a notable number of significant Canadian brands like La Maison Simons, Walmart Canada, and Roots, to its international field of exhibitors, over 150 textile and garment enterprises, featuring readymade garments, textiles, and accessories.
Jason Prescott, CEO of JPC, Inc, producer of ATSC said: "Our sourcing-focused trade shows have experienced a remodelling forced by Covid and extenuated by current geo-politics. It's never been more challenging to produce an in-person event, especially internationally, and we all were suffering from a two-year digital hangover. In Toronto our staff, attendees and exhibitors all felt a renewed interpersonal connection from the face-to-face interactions and everyone is excited about next year."
More than 90% of the exhibiting booths were from outside the borders of Canada, raising the level of difficulty to produce the event due to ongoing travel restrictions for the Chinese and extreme visa processing delays for nearly all participants requiring a visa to enter Canada.
A dozen countries' manufacturers were featured including 13 Chinese manufacturers travelling direct from China to Canada in spite of China's continued zero-Covid travel policy.
Fifty more Chinese companies shipped their products and participated via a combination of local Canadian representatives and virtual onsite matchmaking. This hybrid option allowed attendees to connect direct to manufacturers in China's provinces of Hubei and Zhejiang. Each province brought 20 high-quality textile and garment suppliers to ATSC. The "China Brand" pavilion focused on apparel and textile brands with a focus on China-chic design, zero carbon materials and the latest in R&D.
Many participating manufacturers were provided financial and logistical support from their national governments and industry associations including the India Chamber of Commerce, the BGMEA and EPB for Bangladesh, the Pakistan Hosiery Manufacturers Association, the Gyunggido Business & Science Accelerator for South Korea, the Embassy of Vietnam, the Embassy of Mongolia, the Mongolian Wool & Cashmere Association, and the Ghana Export Promotion Association.
The event also produced ten seminar sessions focused on the Canadian retail sourcing buyer and designer attendee-base. Topics centred on sustainability, new industry legislation, trends and branding and featured Worldwide Responsible Accredited Production (WRAP) president & CEO Avedis Seferian speaking on "The Evolving Legislative Landscape & Mandatory Human Rights Due Diligence Laws", and charitable partner Brands for Canada executive director Helen Harakas discussed "Solutions for Surplus Goods & how to improve your company's sustainable footprint".
Earlier in August, Apparel Textile Sourcing Canada moved this show from 22-24 August to 7-9 November, hoping it would provide enough time for the Canadian government offices worldwide to process visa applications for anyone wishing to attend the show.