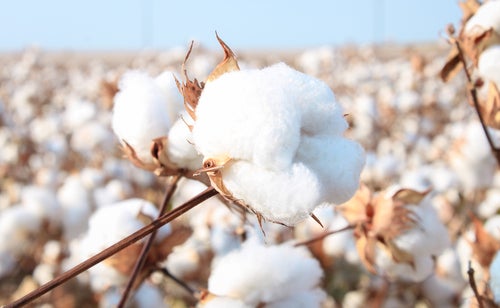 A Memorandum of Understanding (MoU) has been signed between the two which will see Applied DNA deploy Isotech's isotopic analysis (IA) as a confirmatory assay for cotton genotyping – the process through which cotton DNA is utilised to determine cotton fibre and fabric origin forensically. The MoU is expected to be followed by a definitive agreement between the companies.
The signing of the MoU follows the joint presentation of initial data by the firms at an American Apparel and Footwear Association (AAFA) event that describes a methodology and findings for the successful determination of Egyptian cotton fibre, yarn and fabric origin using cotton genomics with affirmation by IA.
The complementary use of IA to Applied DNA's CertainT platform for textile traceability yields a continuity of forensic data across the entirety of a natural fibre-based value chain – from source to finished goods – to ensure adherence to social (avoidance of products made with forced or slave labour) and environmental practices (sustainable, organic) aligned with regulatory and consumer expectations.
Per the MoU, the companies will support business development opportunities for cotton traceability. They will also continue to build and compile a global database of cotton, yarn, and fabric samples from known sources to broaden the application and utility of IA.
"The use of IA complements our CertainT platform to deliver what we believe is a best-in-class, multi-layered approach to supply chain traceability and assurance across the entirety of natural fibre-based value chains. With CertainT, once origin is established, we deliver certainty that we believe is immutable and forensic from source to shelf. The power of DNA is now augmented with IA," MeiLin Wan, vice president of textile sales at Applied DNA, says.
Steven Pelphrey, director of Stratum Reservoir (Isotech), LLC, adds: "Stable isotope analysis is a powerful tool that we have historically used in the oil and gas industry. Through our collaboration with Applied DNA, we can now more broadly apply our proven technology and techniques to the textile industry. This both enhances Applied DNA's CertainT platform with an additional layer of geographic provenance and delivers an unmatched solution to the marketplace."
Last week, Applied DNA said it had made a breakthrough in its cotton traceability technology adding its cotton genomics program can prove a cotton type is genuine and where it has come from.