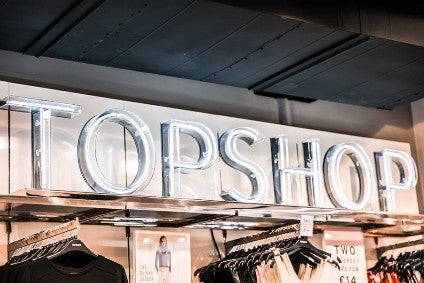 Retail giant Arcadia Group has dismissed reports owner Sir Philip Green is considering selling all or part of the Arcadia empire in a move that could have seen the retail tycoon quit the UK high street.
A report in the Sunday Times suggested the billionaire owner of brands including Topshop, Burton and Wallis, is in talks with Shandong Ruyi, which only last week bought Swiss luxury brand Bally. The Chinese textile giant has been on something of a spending spree in recent years, snapping up Invista's Lycra business, French group SMCP, and Israel tailored clothing manufacturer Bagir Group.
The report says 65-year-old Green is seeking an exit from his poor-performing brands including Dorothy Perkins and Evans, which have struggled to compete against fast-growing online players like Boohoo and Missguided.
It is understood all of the Arcadia brands, including its flagship Topshop, are suffering sales declines. In 2016, the group saw its profits slump on the back of falling sales at its high street stores and the collapse of the BHS chain, which cost Green's retail empire GBP26.4m (US$37m).
Arcadia employs around 26,000 people globally and has around 2,800 stores. It is said to be valued at more than GBP1bn, but industry watchers believe a buyer is likely to pay less than GBP500m because the group will potentially require heavy restructuring work to deal with a large portfolio of unwanted stores, according to the Guardian.
As well as Shandong Ruyi, Green is said to have had talks with US brands owner Oxford Industries. But whatever he decides to do, he is likely to be scrutinised carefully following the collapse of BHS in 2016, a year after he sold the chain for GBP1 to the former bankrupt Dominic Chappell.
He left a GBP571m hole in its pension fund, which he settled with around GBP363m last year following pressure from the Pensions Regulator.
It is understood Arcadia's two pension funds had a combined deficit of almost GBP1bn in March 2016 on a "buyout" basis, which takes into account the cost of securing the benefits in full with an insurer. Green may, therefore, have to negotiate a settlement with the Pensions Regulator or give a heavy dowry to its next buyer.
However, a spokesperson for Arcadia said that neither Sir Philip, nor any of the directors of Arcadia, have ever met or had any contact with Shandong Ruyi, and they have never been to the Arcadia offices to look at the company's books.
"We have the greatest respect for them as an organisation, but have had no dealings or contact with them."
The spokesperson said there was also no truth in the suggestion the company has been "seeking a buyer for some time".
"We regard this article as further evidence of the journalist Oliver Shah's personal vendetta against Sir Philip and the companies. This is disgusting and his being allowed to use the front page of a prominent Sunday newspaper by his editors for a totally false story and his own personal vanity project is wholly unacceptable.
"The 22,000 people that work at Arcadia should not be subjected to this type of malicious rumour-mongering."