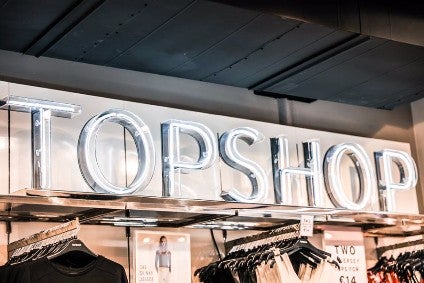 Arcadia Group has avoided falling into administration after its creditors approved all seven of its Company Voluntary Arrangements (CVAs) – in a move that puts its 1,800 workers and extensive supplier base "on a much firmer footing."
The retailer, which owns the Topshop, Topman, Miss Selfridge, Burton and Dorothy Perkins chains, announced the details of its seven CVAs as well as a turnaround plan last month. The move came a month after the fashion group, which is owned by tycoon Sir Philip Green, said it was mulling options for the business to "operate in a more efficient manner."
The proposals include plans to close 23 of the group's total 566 UK and Irish trading locations – putting 520 jobs at risk. It also requested a reduction in rental costs and revised lease terms across 194 of its locations and announced plans to restructure its US operations, with the potential closure of all 11 Topshop Topman stores in America.
In a statement yesterday (12 June) evening, Arcadia said all seven of its CVAs have been approved by the required majority of the companies' creditors, including suppliers.
The decision followed a battle with landlords who opposed requests by the retailer for rents to be slashed by 30%-70% in return for a 20% stake in the business. Revised rent cuts for landlords were agreed at between 25%-50%, with the group's majority shareholder, Sir Green's wife, Lady Tina Green, to invest GBP50m in the group – in addition to GBP50m of funding already provided in March. Lady Green has also agreed to fund the cost of the amended rental reduction terms within the CVA proposals.
"After many months of engaging with all our key stakeholders, taking on board their feedback, and sharing our turnaround plans, the future of Arcadia, our thousands of colleagues, and our extensive supplier base is now on a much firmer footing," says Ian Grabiner, CEO of Arcadia Group.
"From today, with the right structure in place to reduce our cost base and create a stable financial platform for the group, we can execute our business turnaround plan to drive growth through our digital and wholesale channels, while ensuring our store portfolio remains at the heart of our customer offer."
What the analysts say
Chloe Collins, senior retail analyst at GlobalData, notes that although Arcadia's CVA has been approved, some landlords have doubts about the retailer's future.
"Its leading brands – Topshop and Topman – still have a strong following among millennials; however many of the others, such as Miss Selfridge and Dorothy Perkins, are now irrelevant in a highly saturated market and chances of revival are slim, leading landlords to question whether other retailers could offer their spaces more longevity," she says.
Adding Topshop and Topman to the branded offer at rival online retailer Asos as part of Arcadia's turnaround plan "is wise to increase the brand's reach," Collins acknowledges, but she says it is also crucial that the GBP60m invested in advancing Arcadia's digital platforms includes competitive and convenient delivery methods to rival Asos and maintain traction on the brand's individual sites.
"The GBP75m invested from Green into its physical stores, however, is going to be too thinly spread as the agreed closures still leave Arcadia with an estate of around 500 stores, which have been neglected for far too long and are now unable to match competition which moves in favour of experience-led shopping."
Meanwhile, Richard Lim, chief executive of Retail Economics, believes Arcadia's CVA is a positive move for now but adds it in no way ensures a successful turn-around of the business. "There's still a huge battle ahead. It's not just fewer stores that are needed to ensure Arcadia's long-term survival. It ultimately needs a leaner business model, including less staff and fewer brands, as well as investment into its identity and customer experience to fend off online and value retailers.
"The shift online, fiercer competition and heightened customer expectations have forced Arcadia and other retailers to take drastic action to survive. These changes are happening at an unprecedented pace and proving too fast for many retailers to cope."