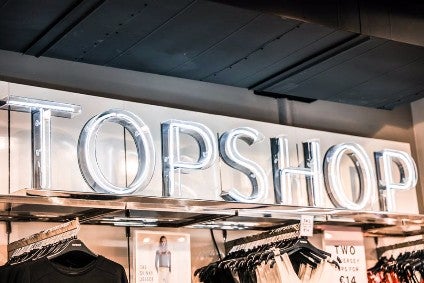 Retailer Arcadia Group, owner of the Topshop, Topman, Miss Selfridge, Burton and Dorothy Perkins chains, has today (23 May) announced plans for a company voluntary arrangement (CVA) that will see the company shutter 23 of its stores in the UK and Ireland.
The fashion group, which is owned by tycoon Sir Philip Green, said it has instigated seven CVAs as well as a turnaround plan aimed at returning the business to growth after a sustained period of declining trading performance. The move comes a month after the group said it was mulling options for the business to "operate in a more efficient manner."
Store closures
Under the proposals, Arcadia intends to close 23 of its total 566 UK and Irish trading locations – although none of the closures will be in the short term, and suppliers will continue to be paid on time. However, it concedes the move puts 520 jobs at risk. In addition, the group is also requesting a reduction in rental costs and revised lease terms across 194 of its locations.
It is also restructuring its US operations, with the potential closure of all 11 Topshop Topman stores in America.
Ian Grabiner, CEO of Arcadia Group, says the measures come against a backdrop of "challenging retail headwinds, changing consumer habits and ever-increasing online competition."
He adds: "We believe that a CVA is the best course of action to reduce our fixed cost base and ensure we can continue meeting our commitments to pension trustees, staff, creditors and our extensive supply chain for the long term, while continuing to serve customers through our portfolio of quality fashion brands."
The group's turnaround plan "includes driving cost efficiencies and managing the refreshed retail store estate and investing in the continued development of multi-channel proposition and logistics."
Daniel Butters and Ian Wormleighton of Deloitte, who have been appointed as nominees to the CVA, say Arcadia and its portfolio of fashion brands have faced "unprecedented" market conditions in recent years, which have significantly impacted the group's financial performance.
"These CVAs will provide a stable platform for Arcadia's experienced and committed leadership team to implement its turnaround plan and ensure the long-term sustainability of the group," Butters says.
Pension spat
As part of the CVA proposals, Sir Green's wife, Lady Tina Green, the group's ultimate owner, will invest GBP50m (US$39.6m) of equity into the group, on top of the GBP50m of funding provided in March, to support its turnaround plans. She has also offered landlords a 20% stake of any proceeds if the group is eventually sold.
In addition, Arcadia says it is in talks with the trustees of its two largest pensions schemes, the Pensions Regulator and the Pension Protection Fund. While the company says it has been paying GBP50m in contributions to the schemes each year, as part of the restructuring it wants to cut its contributions to GBP25m per year, for three years.
However, Lady Green has offered to bridge the shortfall with funding of GBP25m per year for the next three years, plus an additional GBP25m contribution, resulting in total payments into the schemes of GBP100m.
This, however, has sparked concern from The Pensions Regulator, which says it does not consider the proposals "sufficient" to ensure that members of the scheme are adequately protected.
Arcadia is seeking creditor approval on the proposals at meetings due on 5 June.
What the analysts say
Chloe Collins, senior retail analyst at GlobalData, notes the proposed closure "of only" 23 UK stores (4% of its current UK estate) and rent reductions at 194 stores, as part of its CVA, will not be enough to save Arcadia in a world where rising online sales continue to threaten the high street.
"The closures would leave a large portfolio of 543 stores remaining, and with only GBP50m to be invested as part of the proposal, any attempt to pay for an increase in store standards would be spread too thinly to make up for years of underinvestment.
"With FY2018/19 like-for-like sales for Arcadia reportedly dropping 9%, most of its brands such as Dorothy Perkins and Miss Selfridge have lost relevance in today's retail landscape due to their uninspiring fashion ranges and weak multichannel offer. Even Topshop, which used to be Arcadia's star player, has lost appeal among fashion shoppers thanks to tough competition from the likes of Zara, Primark and H&M, as well as online pureplays such as Asos, PrettyLittleThing and Boohoo.com. For Arcadia to survive, Green must revamp its brands; ensuring they have a clear target audience, a point of difference from competitors, and enhanced digital platforms."
However, Richard Lim, chief executive at Retail Economics, believes the CVA is a positive step for Arcadia's survival. "The unrelenting shift towards online, fiercer competition and heightened customer expectations have forced yet another retailer into taking drastic action to try to save the business. These changes are happening at an unprecedented pace and proving too fast for many retailers to cope."
Lim says Arcadia has failed to shift fast enough to a more experience and digitally-led business model, burdened with too many stores, too much space and inflexible lease structures while the impact of rising operating costs has decimated profits. He agrees it's not just fewer stores that are needed to ensure Arcadia's long term survival. "It ultimately needs a leaner business model, including less staff and fewer brands, as well as investment into its identity and customer experience to fend off online and value retailers."
Elliott Jacobs, director at LiveArea, notes Arcadia "simply did not have the flexibility or foresight to rightsize itself when customer behaviour changed. The rise in prominence of online and mobile buying didn't happen overnight. Some businesses, like Arcadia, are simply not set up for change.
"They will not be the last to close stores, with a vast number of large retailers looking to cut high street losses. Some are doing it when leases are up for renewal, while others are scrambling to close stores as quickly as possible. Either way, retailers need to look at their entire commerce strategy and prioritise future-proofing their brand.
"Today, digital must be the priority. Only by investing in building out their online capabilities will companies be able to adapt to, and predict, market changes – from the rise of mobile and social to the emergence of voice command devices."