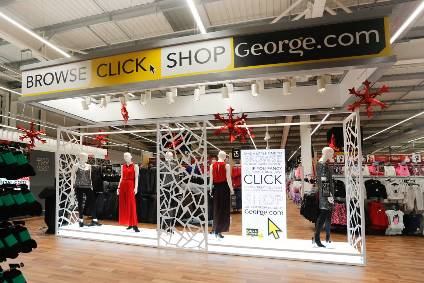 The Walmart-owned Asda supermarket chain says it will continue to honour commitments to suppliers of its George clothing range, even though it is reducing payments for finished products.
A spokesperson for the company told just-style: "Covid 19 has had a significant impact on the global fashion industry – with a severe downturn in the demand for clothing and also factory closures resulting from isolation requirements. We have long-standing and valued relationships with our suppliers and want to help them weather this crisis and be in the best place possible to continue working with us once this crisis has passed.
"We have been in close contact with our suppliers and advised them that we intend to honour our commitments for the vast majority of our George orders. However, where there is product that we are not able to sell at this time we are offering to mutually cancel the order and pay a proportion of costs within seven working days, as well as agreeing suppliers can resell items or donate them."
"These changes impact a small proportion of our orders. For example, where we can use material again in new ranges, we will be doing so and therefore anticipate accepting over 95% of our planned orders from our Bangladesh suppliers for the year. This approach gives our valued suppliers the benefit of a cash injection into their business in the immediate term so that they may pay their workers, as well as a clear path towards planning for next seasons ranges with us."
Unlike many retailers, the supermarket is classed as "essential" because it sells groceries, so has not been forced to close during the UK's coronavirus lockdown. However, as well as being focused on allocating more space for products like food, it is seeing a slump in demand for clothing and footwear items like much of the fashion industry. It has also invested in additional space to store products that it can't currently sell due to the Covid impact.
Its seven-day payment is significantly faster than the industry standard and will provide vital funds to suppliers – allowing factories to pay workers and gear up for autumn/winter orders once factories reopen.
The issue of cancelled or delayed orders and deferred payments to suppliers is causing huge concern across the industry.
In the last two days a coalition of labour rights groups representing around 2,000 garment brands and retailers has separately set out its priorities to protect garment workers during the Covid-19 crisis – including safeguarding worker income and health, and future-proofing supply chains.
Apparel brands and retailers – including Adidas, C&A, H&M Group, Inditex, M&S and Primark – have joined employer organisations, unions and the International Labour Organization (ILO) to try to secure emergency funds to support garment factories and workers through the Covid-19 pandemic.
And textile, apparel, footwear and travel goods trade associations from around the globe are adding to calls for governments to address the liquidity squeeze caused by Covid-19 across the supply chain.
Some brands and retailers have said they will pay and take delivery of produced goods including H&M and most recently, Primark.
Sofie Willmott, lead analyst at GlobalData, explains: "As the fourth biggest player in the UK clothing market in 2019 with 3.4% market share, Asda is cutting back on the cost of stock that it knows will be difficult to sell in the current climate.
"Although shoppers may pick up some more essential clothing products such as baby and childrenswear while doing their grocery shop, most consumers will be solely focused on food.
"Asda has joined the many other clothing specialists that are cutting back on orders and payments where possible, as clothing and footwear spend is set to fall 26.1% this year resulting in spring summer stock requirements being trimmed right back."