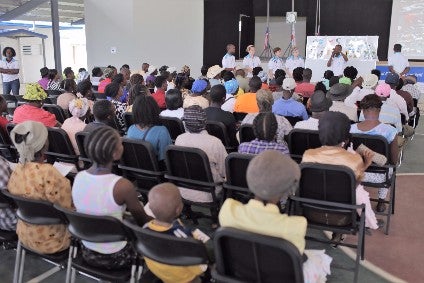 By this time next year, there could be as many as 30 garment manufacturing factories that are owned and operated by Asia-based companies in Haiti, according to Georges Sassine, president of the Association des Industries d'Haïti (ADIH).
The Caribbean country has seen an influx of Asian-owned businesses since early 2017 and Sassine says there are presently almost 20 such garment factories in Haiti.
South Korean operators are leading the charge with 10 factories. Indeed, one South Korean company, S&H Co Ltd (SAE-A) – with SAE-A Trading its parent company – started operations in Haiti in 2012, and has since gone on to become the largest employer in the country's clothing sector with more than 13,000 workers.
Taiwanese firms have also built three factories, and one is operated by a subsidiary of Sri Lanka-based MAS Holdings.
Giri Chandrasena, general manager of special projects for MAS Akansyel, says Haiti's close proximity to the US, the company's largest market, was a driving force in its decision to set up shop there. That decision was also influenced by the US's Haitian Hemispheric Opportunity through Partnership Encouragement (HOPE) Act of 2006 and the Haiti Economic Lift Program (HELP) Act of 2010.
"This has played a key role in making Haiti a favourable manufacturing destination for MAS," says Chandrasena. "Given the potential duty benefits, we have been able to convince our premium customers to partner with us in Haiti."
The company makes active, athleisure and sportswear and in June 2018 celebrated its one-year anniversary in Haiti. Its factory is located inside the Parc Industriel de Caracol (PIC), in the north-east of the country.
Labour availability
Sassine says that in addition to Haiti's proximity to the US and the benefits of the HOPE and HELP acts, the availability of labour also makes the island very attractive to Asian business owners.
"The level of unemployment is very high in Haiti," says Sassine (14% in November according to data service Trading Economics). "So, people want to work, they don't care who owns the factories. For them, all factories are the same."
Chandrasena says the company has received a very warm welcome from Haitians, with support from both the government and the non-governmental sector.
At present, MAS employs around 1,000 Haitians at its facility and is looking to take on 600 more workers. In addition, it has broken ground within the island's bustling apparel industry by ensuring that all employees have bank accounts. There is an automated teller machine (ATM) within the company compound.
"All employees at MAS Akansyel have bank accounts," says Chandrasena. "This comes at a cost to the company. Through this, we avoid cash payments and salaries are deposited directly into each employee's bank account. All our employees are given transport to and from work and are provided with uniforms."
Sassine adds that some Asian-owned garment factories pay well above the minimum wage for the sector.
Last month, Haiti's government published a decree giving a 20% increase to garment manufacturing workers, moving their salary from HTG350 (US$5) to HTG420 (US$6) per eight-hour working day. The wage increases took effect on the same day they were announced. But garment worker unions say the rise is not enough.
Challenges
But he says that while there is a lot of promise for the industry in Haiti, there are also some challenges. While Sassine expects at least a dozen more Asian-owned garment manufacturing businesses to start operations by mid-2019, he emphasises that the supporting infrastructure is lacking.
"The main challenge is the lack of buildings, which we are frantically trying to solve," he says. "Right now, we have two new businesses already established but they are waiting for buildings to use."
Another issue is a shortage of skilled workers, he says, although he believes this can be remedied through Haiti's two training centres, where people are being trained specifically for the garment sector. "The challenge is to train more people continuously to ensure workers are competent and available."
Sassine adds that garment manufacturing businesses owned by Haitian firms have no quarrel with overseas investors since the market is big enough for everyone to share.
MAS Akansyel is not only ramping-up production at its first factory in Haiti in a sustainable manner, Chandrasena says, but it has also been "encouraged to look at expanding its production footprint" and is presently looking for space to further expand its Haitian operations.
Other industry insiders in Haiti have also told just-style they are optimistic that the sector can continue expanding in size, as long as the Caribbean country's government delivers economic and social stability: Haiti garment makers hopeful on future expansion