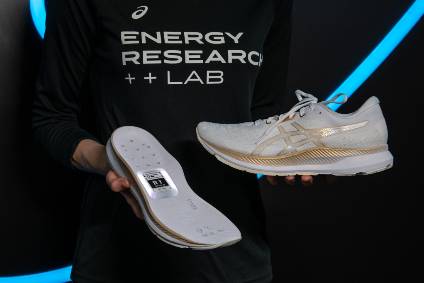 Japanese sportswear giant ASICS Corp is investing in a Japanese startup for the development of a new smart running shoe.
No New Folk Studio Inc is the developer of Orphe Track, which measures and analyses foot movement. The company launched in 2014 and develops Internet of Things (IoT) products, services and platforms.
The project will see the two work on smart running shoes that give runners real-time feedback on the changes in their foot movements.
Foot movement data, including number of steps/distance, cadence, and angle of ground contact are collected and together with biomechanics expertise at Asics Institute of Sport Science, is analysed to provide runners with feedback on gait analysis, including step length and foot strike pattern.
The first smart shoes will launch this year.
Asics says one of the core strategies of its medium-term management plan, the Asics Growth Plan 2020 is "enriching sports lives through the use of digital technology" and the company is focusing on improving the sense of fulfillment customers get from sports by using digital power.
"The investment in No New Folk Studio is part of that strategy, as Asics has actively sought to utilise state-of-the-art expertise and technology from outside the company in the fast-growing digital field.
"Asics plans to keep accelerating its digital strategy by promoting the use of sensing technology and big data analysis in collaboration with other companies and to offer even more personalised services to its customers."
A prototype of the smart running shoes was presented at CES 2020 in Las Vegas last month.
Click here to read just-style's roundup of the event: Ten breakthrough apparel innovations at CES 2020