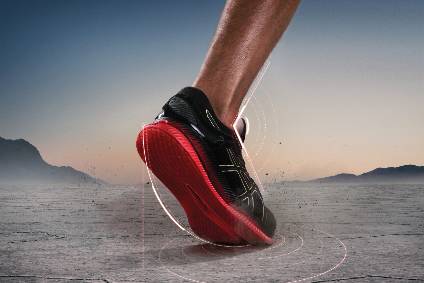 Japanese sportswear company Asics has deployed its new Guidesole3 technology to develop an "energy-saving" shoe, which it claims allows runners to achieve longer distances more easily.
Metaride is the product of two years of scientific and design research by a team at the Asics Institute of Sport Science (ISS) in Kobe, Japan, and is engineered to minimise movement in the area where most energy is expended; the ankle joint.
According to the firm, the shoe has been scientifically proven to offer a total reduction of energy loss at the ankle joint by almost one fifth, a "seismic" difference for long distance runners, Asics says.
The key is the company's new Guidesole3 technology; a precision-shaped curved sole that works by shifting the body weight forward and propelling runners on to give the feeling of effortless motion.
"The Metaride concept and new Guidesole technology are fundamentally different to any other shoe we've ever made or that's on the market today," said Kenichi Harano, executive officer and senior general manager at ISS. "We looked at run efficiency in a uniquely Asics way to provide a new 'feel' whilst maintaining our promise of performance and protection."
Metaride is the first in Asics' new energy-saving franchise, which will make the same concept and technologies available to more runners at different price points. A takedown model is planned for release this autumn.
"We believe this new technology has the potential to disrupt the world of long-distance running," asserts Asics COO Yasuhito Hirota. "Our athletes and runners have told us that Metaride is already transforming how they train, race, run and recover. This is just the beginning of a new era for Asics as we bring the best innovations to our fans while attracting a new generation of runners."