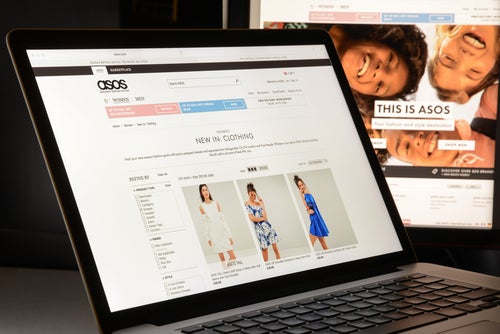 Selected from ASOS' homegrown brands Asos Design, Asos Edition and Asos Luxe, the edit features wedding guest outfits, bridal looks and bridesmaid dresses and includes curve, petite and tall sizing options.
Isabella West, CEO of Hirestreet, said: "In the UK in 2023, the average cost of attending a friend's wedding is over £500 ($619). That's why 'wedding guest' is our most popular occasion category at this time of the year. We strongly believe this will be our most popular brand collaboration to date."
With RRPs ranging up to £275, customers can choose from four, ten, or 30-day periods. Prices for individual items start at £20. Furthermore, customers can take advantage of Hirestreet's two-for-£35 offer.
Jag Weatherley, corporate transformation director at Asos, stated: "Our new collaboration with Hirestreet allows even more individuals to experience Asos's unique, fashion-forward styles. Clothing rental is a growing market that offers exciting commercial potential while aligning with our goal of promoting circular fashion."
Earlier this month, Asos reported a widening of losses in its first half but the e-commerce retailer said it was starting to see the benefits of its turnaround strategy.
And in October last year, Asos declared a strategy to enhance inventory management, cut down expenses, and "strengthen its top team". The plan was one of Jose Calamonte's first acts as chief executive.
GlobalData apparel analyst Alice Price believes Asos' rental partnership with Hirestreet is a smart move for the fashion giant, as its expansive occasionwear offering is unrivalled, making it a strong candidate to win within the rental market.
She says: "Amid a challenging year for the retailer, with UK revenue in the six months to 28 February 2023 falling 10.3%, this rental initiative will help increase relevance among its shoppers which are becoming increasingly conscious of both the cost and environmental impact of buying new clothes. It will also help repair some of the reputational damage that resulted from greenwashing claims made against the retailer in 2022."
Price also highlights that the UK rental market has boomed in recent years and is set to grow by 163.9% between 2022 and 2026. However, she adds it still only accounts for a small proportion of total apparel spend, at an expected value of just £229.9m in 2023.
Therefore, Price says Asos will have to do much more to truly benefit from the demand for sustainable apparel and improve its credentials.
"It should first tackle the problem at its source, by adopting more environmentally friendly production methods and marketing these effectively to drive awareness and gain consumer trust."
Price suggests Asos should also not overlook the growing resale market. Asos Marketplace sells some pre-owned items, but compared to resale platforms such as Vinted, garment prices are more expensive and comparable to buying new, as it mainly sells styles from independent boutiques. Items also tend to have a vintage aesthetic, restricting appeal among the everyday Asos shopper.
She concludes: "Asos should therefore take inspiration from competitors such as PrettyLittleThing and consider launching a dedicated C2C resale app, to fully tap into the secondhand market and attract more eco-conscious consumers."