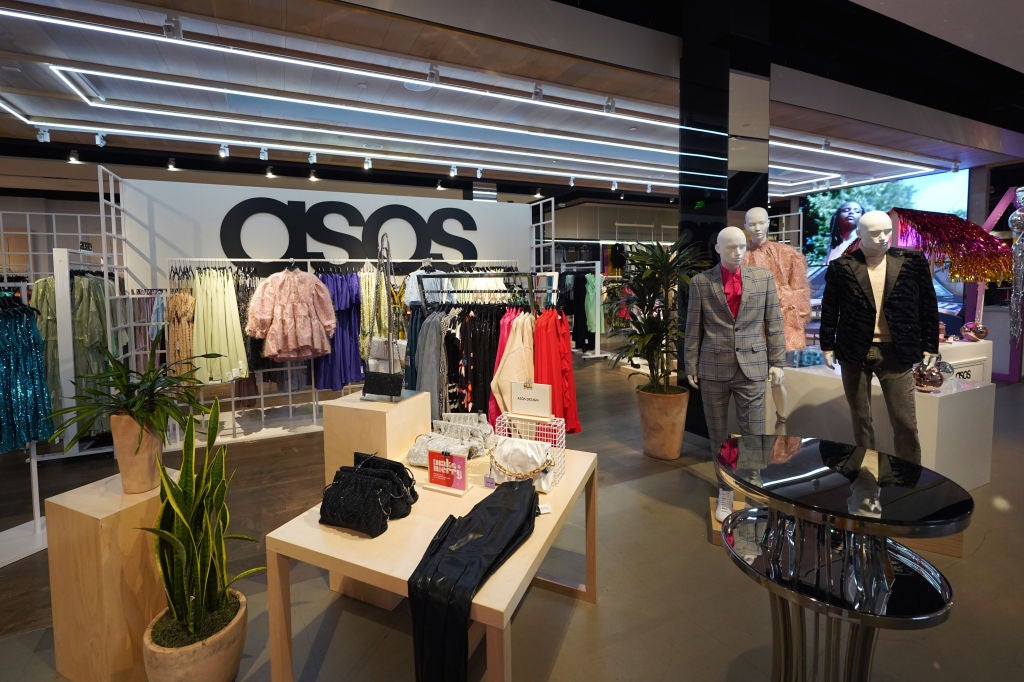 In a trading update for the four months ended 31 December, ASOS said group sales were down 3%, broadly in line with expectations, reflecting challenging trading conditions and the prioritisation of structural profitability improvements and cash generation.
However, shares were up over 16% this morning after CEO José Antonio Ramos Calamonte said the turnaround plan he has been overseeing since taking the helm last summer, which has included reducing stock, cutting spending and slowing automation, is showing signs of early progress.
"We are undertaking necessary strategic and operational changes, with our focus shifting from prioritising top-line growth to building a more relevant and competitive fashion business with a disciplined approach to capital allocation and ROI," said Calamonte.
"At the same time, we are working to reinforce our credibility as a leading destination for our fashion-loving customers. We have made good early progress against a number of measures to simplify the business, including repositioning our inventory profile, reviewing our operational model in our top markets and reducing our cost base. While there is more to do, I am pleased by the progress made in this period and am confident in the direction we are going. We retain ample balance sheet flexibility and reiterate our expectations for FY23."
As part of its plans, Asos says it will be winding down three ancillary storage facilities (one in Europe, one in the UK and one in the US) in the second half, as well as "rationalising" office space. The retailer is also looking to optimise use of its Lichfield fulfilment centre to eliminate UK split orders, and will remove 35 unprofitable brands from the Asos platform by the end of the first half.
UK sales were down 8% in the period, reflecting weak consumer sentiment, particularly in September when Asos was impacted by national newsflow, and in December, which was affected by disruption in the delivery market. In addition, there was a strong comparative period in December 2021, as the Omicron Covid variant boosted online retail.
EU sales grew 6%, driven by improved basket economics supported by price increases, and customer growth, with the Netherlands and Ireland notably strong, while US sales fell 2% due to slower wholesale performance acting as a drag on retail sales.
Rest of World sales fell 10% reflecting implementation of a range of strategic measures, including a reduction in performance marketing spend to optimise return on investment, and changes to delivery thresholds and charges.
Adjusted gross margin was broadly flat on the prior year but Asos is expecting "significant improvement" in the second half of 2023.
Asos said trading in the period was "volatile" and the retailer is expecting these trends to continue through the current financial year.
In the first half, Asos is continuing to expect a loss, driven by usual profit phasing, headwinds from inflation and annualisation of elevated return rates. These headwinds are expected to persist into the second half of the year but Asos believes they will be more than offset by accelerating benefits from its Driving Change agenda.
In October, Calamonte outlined four key actions to drive improved operational performance. Asos says it has made "significant progress" against these. Highlights include:
On track to reduce FY22 year-end inventory levels by c.5% by end of H1 FY23, with further improvement from increased stock turn expected in H2 FY23.
Management team strengthened by appointment of Christoph Stark as group director of supply chain in January 2023.
Identification of profit optimisation and cost mitigation measures with an estimated FY23 impact in excess of GBP300m.
Approximately half of the stock units identified for write-off already physically extracted from ASOS' core network.
Reducing staff costs by c.10% via previously reported action on headcount.
UK the weakest link for Asos
GlobalData analyst Pippa Stephens explains: "Asos has experienced a challenging start to its financial year, with revenue falling by 4.1% to GBP1,336.5m in the four months to 31 December 2022. Though this can partly be blamed on a normalization in shopping habits after the Omicron variant drove a surge in online shopping in the comparative period, it is clear that Asos' core 20-something shoppers are being the hardest hit by the cost-of-living crisis, causing them to cut back on fashion purchases. With many shoppers also now veering away from fast fashion to prioritise purchasing better quality, longer lasting items, Asos must focus on promoting value for money to boost appeal, by highlighting the versatility of its offer in product images and marketing communications, and overall improving the quality of its products.
"Despite having outperformed in FY2021/22, the UK was Asos's weakest link during the latest period, with constant currency sales declining by 8%, due to it having some of the highest inflation rates and because of Royal Mail postal strikes impacting Christmas deliveries. With 2023 set to be an even harder year for the UK apparel market, Asos is in for a bumpy ride, though it currently expects more positive results in H2. The US also experienced a slight decline of 2% in its constant currency revenue due to slowing wholesale sales, indicating that its Nordstrom partnership is not proving that successful. However, the EU was much more resilient, with growth of 6%, driven by price increases as well as notable growth in its customer base, likely aided by its ceaseless marketing initiatives on Instagram and TikTok.
"Though rumours swirled after Asos' last trading update that it would potentially be opening a physical clearance store, no further update has been provided. However, it did open experiential Black Friday pop-ups across the UK in November, indicating it has realised the benefits of a physical presence in connecting with shoppers. As many shoppers flock back to stores and to fight off tough competition from players like Zara and Primark, Asos should continue to experiment with more physical initiatives to help grow its customer base further and remain top of mind."