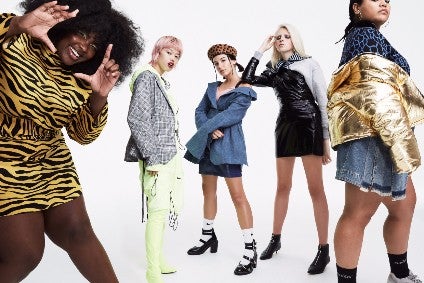 Asos shares remained up by 10.3% this morning as the retailer reported its results for the period. Total group revenue increased by 2% on a reported basis to GBP1.39bn (US$1.91bn) from GBP1.36bn a year prior. In constant currency, total revenue increased 5%.
Asos noted the sales rise was in line with its guidance despite continued industry-wide supply chain constraints and increased uncertainty following the discovery of the Omicron variant.
"Supply chain constraints played out as anticipated, whilst market demand remained volatile due to significantly increased Covid caseloads across large parts of the UK, Europe, and the US," it added.
The retailer's domestic market delivered growth ahead of expectations at +13%, supported by strong peak performance and demand for going out wear.
The EU grew by 2% in the period and was significantly impacted by the fourth Covid wave, with resulting restrictions limiting events and going out occasions.
Meanwhile, the US delivered growth of 11% despite significant port congestion and supply chain disruption which Asos said inhibited its ability to fully service demand.
Rest of World sales were down 15%, reflecting what Asos called the continued impact of extended delivery propositions.
Elsewhere, as expected, gross margin decreased by 400 basis points to 40% driven by heightened clearance activity to shift slow-moving '21 spring/summer stock, elevated freight costs, and use of air freight to circumvent supply chain constraints and maximise peak trading.
Asos said trends are expected to improve across the remainder of the year as peak-related supply chain bottlenecks ease and stock profile normalises.
COO Mat Dunn hailed a "robust" start to the year which he noted was in line with the guidance set out at the retailer's full-year results.
"This performance reflects the strength of our offer, excellent customer experience and the dedication and hard work of all Asosers. We continued to make progress against our objectives to improve the flexibility and speed of our retail model and accelerate the pace of delivery of our international growth strategy. Looking ahead, while mindful of the near-term uncertainty relating to the pandemic, our guidance for the full year remains unchanged."
As such, revenue growth is expected in the range of 10-15% and adjusted profit before tax of GBP110m-GBP140m
Elsewhere, Asos announced plans to move to the Main Market of the London Stock Exchange.
"Our listing on AIM for the past 20 years has been an important part of Asos' development, but the time is now right to move to the Main Market as we focus on delivering our medium-term guidance and longer-term growth ambitions," Dunn noted.
Supply chain disruptions persist for Asos
Josh Holmes, senior consultant at Retail Economics notes Asos enjoyed a lockdown-fuelled boom early in the pandemic, but its latest results signal a more turbulent period for the online retailer as supply chain costs spiral and profit margins come under pressure.
  "On top of delivery delays and higher freight costs, rising return rates have also become a burden on the balance sheet for online fashion retailers," he says. "As Omicron swept the country in the run-up to Christmas, festive party cancellations dampened demand for party-wear from Asos's style-conscious twenty-something demographic."   "An update on the search for a new CEO is also urgently needed to offer some much-needed reassurance to investors. Although some of these issues may be transient in nature, the company also faces longer-term challenges such as concerns around the sustainability of fast fashion and growing competition from high street retailers who are mounting a comeback after making substantial improvements to their digital propositions since the pandemic began."
Asos announced Nick Beighton would step down as CEO in October.