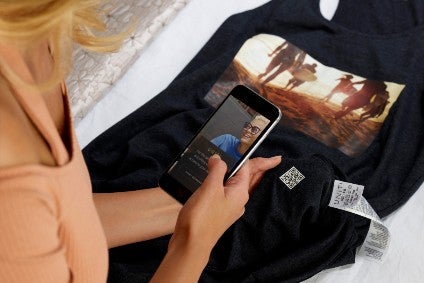 Avery Dennison has developed a new platform that aims to help the move towards circularity by providing garments with a digital identity to communicate to consumers how to recycle or resell their clothing.
The firm produces labels with unique digital IDs for its apparel partners and says intelligent labels in every garment could move the industry towards circularity by transforming how companies source, design, manufacture, and enjoy products.
Using a digital trigger, such as a QR code on the garment labels, customers are directed to digital platforms where the material composition, local recycling information, and current guidance for how to return items are provided.
A circular model aims to redesign the fashion industry system – reducing energy use, maximising resources, extending the life of products, and designing out waste. The goal is to keep products and everything that went into making those, looping through circular systems.
To make the label "intelligent," the firm assigns a unique digital ID to each label so that every garment has its own individual identity. That digital ID can be embedded into a QR code, an RFID inlay or an NFC tag, or any combination of those technologies.
Through this process, Avery Dennison can assign unique data to each garment and create different experiences for different users throughout the supply chain.
Michael Colarossi, vice president, product line management, innovation and sustainability at Avery Dennison, tells just-style that brands and retailers may want to create specific digital marketing experiences for their customers through the unique digital ID, while consumers may be able to gain information on the item's composition in order to wash, recycle, or resell their garments appropriately.
In addition, resellers could use the digital ID to validate the authenticity of a garment.
"Because it's digital and because the ID was created at the garment's birth, we can enable an incredible amount of experiences for several audiences."
The solution will help to close the loop of the circular economy by enabling key parts of the supply chain, Colarossi explains.
"Today, consumers do not have a simple way of knowing how or where to recycle or resell their clothing. We can now provide that information simply through a smartphone scan. Recyclers have no easy way of determining clothing composition to determine the best recycling method to use. Again, we can provide that information digitally and, with some of our authenticity protocols, we can allow resellers and consumers to instantly confirm the authenticity of a garment with a unique digital ID label, hopefully eliminating one of the challenges associated with dramatically scaling the clothing resale market."
He adds the benefits to apparel brands will depend on the technology that they choose to deploy.
"Using RFID technology will have much broader benefits than technologies like QR codes and NFC, which are primarily intended for consumer interaction. RFID empowers inventory reduction, supply chain efficiency via omnichannel enablement, efficient buy-online-pickup-in-store models, etc. Even so, QR and NFC technologies provide the brand the opportunity to continue 'speaking' with their customers, enhancing their storytelling, or even refreshing consumer loyalty programmes via the unique digital ID.
"Of course, brands that can demonstrate that they are enabling the circular economy will have a competitive advantage over others, particularly as more consumers continue to consider sustainability as part of their purchasing decisions."
Avery Dennison showcased the solution with British fashion designer Priya Ahluwalia at the recent Copenhagen Fashion Summit, with Colarossi adding the firm will launch a number of pilots across the supply chain to elevate different use cases, learn, and improve the solution.
"We also have some upcoming partnerships that we plan to roll out in the coming seasons so look out for garments with unique digital IDs on retailers' shelves. But given that we see this solution having the power to change an industry, we are not limiting ourselves to brand collaborations alone," he tells just-style.
In addition, the company is working with the Textile Exchange's Accelerating Circularity project to provide all of the garment composition data for recycling programme it has underway regarding the east coast of the United States.
"We're also working with the UN and EU to utilise the technology to improve the transparency of what goes into making a garment and enable a fully circular supply chain pilot that will start early next year."