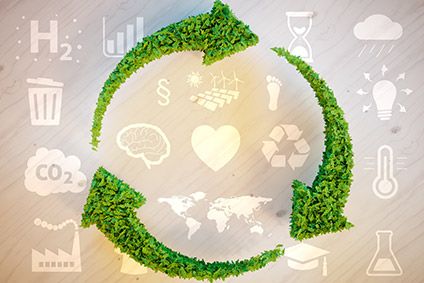 Thanks to its partnership with the Green Education Foundation, e-tailer Azazie has been able to achieve its sustainability goals of reducing waste and promoting a circular economy.
Azazie said it is continuing its partnership with the Green Education Foundation, the non-profit recycling charity organisation, to promote sustainability efforts in the bridal industry. Over the past year, the partnership has achieved "significant success" in reducing the environmental footprint of Azazie's operations and furthering its sustainable practices in the industry.
The company began its participation in GEF's 'Closed Loop Recycling Program' back in 2022. The programme takes Azazie's donations of unused garments and as a result it reduces the carbon footprint and energy necessary to produce the same item, producing sustainable goods. Green Education Foundation is one of the only global organisations using a process that reclaims 100% of the clothing fibres donated.
Since the start of its partnership with the Green Education Foundation, Azazie has:
Diverted 57,690 pounds of textiles from landfills.
70% of those textiles were able to be reused, saving 20,192 pounds of cotton and 48,459,600 gallons of water.
This saves landfill space, which in turn saves municipalities money that can be used for other municipal needs.
It also reduces the risk of groundwater contamination from the chemicals and toxic materials used to make textiles such as chemicals, dyes, and bleaches.
This conserves energy, dyes, and chemicals used to make new textiles, which results in less pollution.
"As a company, we believe in the importance of reducing our environmental footprint. We've continued to make sustainability pledges and we are thrilled with the work and accomplishments we've achieved through our partnership with Green Education Foundation," said Jeff Cardoso, VP of operations at Azazie.
In addition to its recycling efforts, Azazie has also taken steps to reduce its carbon footprint by partnering with Happy Returns, the return service that streamlines the return process by allowing customers to drop off their returned items without needing to print anything or box up the items first.