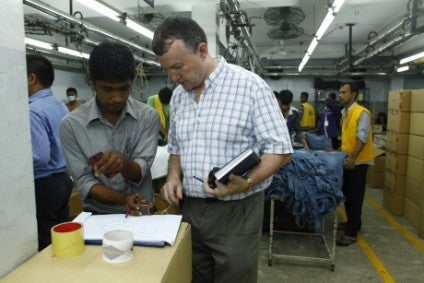 The Accord on Fire and Building Safety in Bangladesh has issued its latest quarterly aggregate report and says it is committed to accelerating the pace of remediation at factories that are too far behind schedule.
The report comes as an agreement between the Bangladesh Garment Manufacturers and Exporters Association (BGMEA) and the Accord has finally been struck in a move that paves the way for the Accord to continue its operations for a transition period of 281 days.
As part of its commitment to transparency and accountability, the Accord publishes its quarterly aggregate reports and makes public on its website the list of Accord-covered factories and their safety remediation progress, together with the status of the safety training programme; the list of non-compliant suppliers; the list of factories handed over to the Government of Bangladesh; and the complaints raised by workers and their representatives with the Accord health and safety complaints mechanism.
The 2018 Transition Accord, which entered into effect on 1 June 2018, covers 1,674 RMG and textile factories of which:
1,403 factories are 'active', meaning that at least one company signatory is actively sourcing from there;
59 factories are 'inactive responsible', meaning that at least one company signatory was sourcing from there within the last 18 months.
212 factories are 'no-brand', meaning that they were covered under the 2013 Accord but had not completed the initial remediation until 1 June 2018, and have not been listed as 'active' by signatories to the 2018 Transition Accord. The Accord continues to monitor and support remediation at these factories until remediation has been completed.
Of the 1,674 factories covered by the Accord, 1,610 factories have been inspected, with 1,068 having achieved more than 90% initial remediation. 64 factories are recently listed and scheduled for initial inspections.
Other key milestones include some 227 factories having completed initial remediation, while a total of 14 factories have completed all remediation. 133 were made ineligible for business with Accord brands due to being non-compliant and 134 were closed.
Of the 32 factories that were inspected during 2019, two were noted as being "behind schedule" where the Corrective Action Plan (CAP) is in implementation but one or more timelines have not been met. But 29 of the factories have either incomplete CAPs, none at all or ones not approved by the Accord.
While this is "a concern" said the Accord, a CAP is marked behind schedule if just one item has passed the agreed final timeline. Being behind schedule, therefore, does not necessarily mean that no progress has been made at all.
"The Accord remains vigilant in accelerating the pace and level of remediation at the large number of Accord inspected factories where the execution of the remediation is inadequate or too far behind schedule".
Some of the findings of this quarter's report include:
Fire safety hazards identified at initial inspections:
97% of Accord factories lacked safe means of egress. Lockable/collapsible gates, storage blocking exits and inadequate egress lighting were the most common hazards.
Exit stair openings, the fire pump rooms, warehouses and storages were the most common areas identified in factories as lacking a proper fire separation.
91% of factories required adequate fire detection and alarm systems.
Electrical safety hazards at initial inspections:
Inadequate support and protection of cables was the most common electrical hazard identified.
Deficient circuit breakers, unprotected openings and unsafe earthing (grounding) systems were found at more than 70% of factories.
More than 60% of factories had dust and lint accumulated on electrical wiring, which can cause sparks and start a fire.
Structural safety hazards at initial inspections:
No management load plan was in place, or the existing plan was being poorly implemented at almost 70% of factories. Using a management load plan prevents excess structural cracks and building collapses by avoiding weight in certain parts of the building.
Undocumented constructions and inconsistencies with the structural design drawings were found at more than 70% of factories. In just over 10% of the factories inspected, this resulted in an immediate requirement to reduce the loads in the building, such as storage or water tanks.
Lateral instability was identified at 62% of factories. Following the initial inspection, almost half of the factories had to conduct a design check against lateral load. This design check involves verifying that the building is adequately designed for potential wind load. For example, the maximum velocity of wind during a storm has to be considered as pressure on the building and the design check shows how the building will react to this.
Click here for the full report.