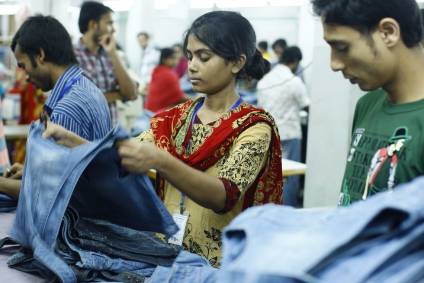 The last three weeks have seen another 13 apparel factories used by member companies of the Alliance for Bangladesh Worker Safety complete all material components outlined in their Corrective Action Plans (CAPs), while operations were suspended in one other.
Factories achieving "substantial completion" of their CAPs since 10 November include Aboni Knit Wear Ltd, Ananta Denim Technology Ltd, Checkpoint Systems Bangladesh Limited, Creative Wash Ltd, Geebee (Bangladesh) Limited, NATco Global Packaging Dhaka Ltd, Rishal Garments Ltd, Rowa Fashions Ltd, Silver Composite Textile Mills, Simba Fashion Ltd, Standard Stitches Ltd (Woven Unit), Tarasima Apparels Ltd, and Winsome Fashion Wear Ltd.
The news brings the total number of completions to 247 – out of a total of 780 factories supplying its member companies. The group has just seven months left for the remaining factories to complete their CAPs, with the Alliance due to be wound up by June of next year.
Meanwhile, the Alliance also continued to enforce accountability measures in November for factories that failed to make adequate remediation progress. Pinery Textile Limited was suspended from the Alliance compliant factory list, bringing the total number of suspended factories to 164.
The complete list of suspended factories, as well as those that have achieved substantial completion of their CAPs, can be found here.
Speaking to just-style as the Alliance published its fourth annual report last month, Alliance executive director Jim Moriarty said the group expects that by next summer the vast majority of the factories are going to be in "very good shape."
"The pace of CAP closures is picking up as more and more factories get near the end of their remediation programme and as we make sure they are in good shape in respect to training. In fact, in the third quarter of this year, we actually did four times as many CAP closures during the first two quarters of the year combined."
The Alliance, which is due to leave Bangladesh after the end of its tenure on 31 May 2018, is also looking to partner on a new safety organisation in Bangladesh that would be "independent, credible, and operate on a sustainable business model."