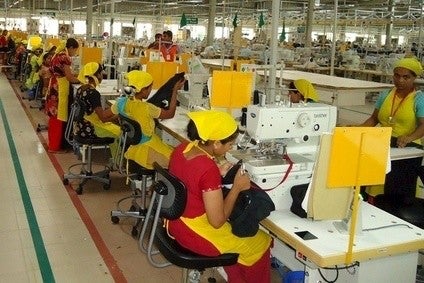 Bangladesh has reported a double-digit increase in apparel exports for the six months to December.
Ready-made garment exports jumped 15.7% against the July-December period last year to US$17bn, while knitwear exports rose nearly 14% to US$8.7bn. Woven garment exports were up 17% to US$8.4bn, according to the Export Promotion Bureau of Bangladesh.
Speaking to local newspaper The Daily Star, the president of the Bangladesh Garment Manufacturers and Exporters Association (BGMEA), Siddiqur Rahman, said the future outlook for garment shipments is "even brighter" on the back of higher orders from western retailers with over 90% of the work on factory remediation recommended by the Accord and the Alliance being complete.
According to the report, factory owners in Bangladesh have spent over US$3bn in the last five years on remediation measures following the Tazreen factory fire and the subsequent Rana Plaza building collapse in 2013.
Rahman says the moves to rectify the issues have " brightened Bangladesh's image abroad."
However, he says more needs to be done to grow the country's productivity to make Bangladesh more competitive worldwide, including improving logistics.
The BGMEA recently announced it has signed a memorandum of understanding (MoU) with the Directorate of Technical Education, a government board responsible for regulating and developing technical and vocational secondary education, to train workers in the garment sector.
According to the BGMEA, the collaboration will implement the Skill and Training Enhancement Project (STEP) to give young people training in garment sewing and knitting.
Bangladesh is the world's second-largest ready-made garment exporter, worth around US$28bn per year, thanks to its low labour costs, abundant labour, and duty-free access to western markets. It is second only to China. Apparel exports account for 80% of the country's exports and 12% of its gross domestic product.