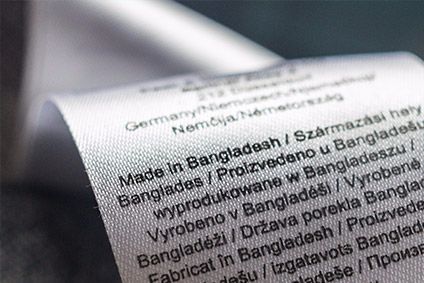 The Bangladesh Garment Manufacturers and Exporters Association (BGMEA) said it is looking to grow apparel market share from 8% currently and is looking at an export target of US$100bn by 2030.
The comments come ahead of the 'Made in Bangladesh Week', a week-long opportunity for local producers to showcase stories of transformation and progress in a bid to sell the industry as the first-choice sourcing destination for global fashion retailers
Made in Bangladesh Week, launched in conjunction with the Bangladesh Apparel Exchange (BAE), takes place between 12-18 November and will see local garment manufacturers and workers vocalise efforts and progress in workplace safety, workers' wellbeing, environmental sustainability and innovation to inspire positive change.
The event will provide industry stakeholders with an opportunity to set out their vision for the next decade as Bangladesh continues to pursue new areas of expansion and manufacturing excellence.
BGMEA and the BAE say while significant progress has been made in the Bangladesh apparel industry since the Rana Plaza tragedy almost 10 years ago, they believe transparency and collaboration is essential to foster positive long-term, systemic change.
Made in Bangladesh Week will open the doors of this industry to the world to demonstrate how the country is building towards a sustainable, resilient, modern, fair and equitable supply chain through the sharing of best practice.
The event will also encourage open and honest conversation about some of the barriers to progress, pointing to potential solutions that will empower fashion brands, and manufacturers alike, to operate in a truly responsible and sustainable way.
President of Bangladesh Garment Manufacturers and Exporters Association (BGMEA) Faruque Hassan said: "The Bangladesh apparel industry has made significant progress in the last decade. As well improvements in health and safety, steady progress has been made in sustainability. With Made in Bangladesh Week, we are inviting the world to witness the progress and play a part in discussions which will continue to drive improvement across the whole industry."
The local industry currently employs more than 4m people in Bangladesh, represents about 84% of the country's total exports and more than 11% of Gross Domestic Product (GDP). In pursuing sustainable growth in the apparel industry, Bangladesh aims to make a significant broader impact on the economy, environment and people's livelihoods.
Made in Bangladesh Week will mark too the global launch of the BGMEA Innovation Centre. The centre will promote sustainable and technological innovation in the apparel industry across the country, which will move to address increasing competition, add value, meet the evolving needs of global customers and create a more resilient and sustainable industry that will protect workers for the future.
The week will comprise 17 physical events including the Dhaka Apparel Summit where Just Style has been invited to speak, exhibitions, workshops, conferences, awards, factory tours, a fashion runway show, a cultural show and networking opportunities.
Founder and CEO of Bangladesh Apparel Exchange (BAE) Mostafiz Uddin said: "The overarching theme of the event is 'Care for Fashion'. We look forward to hosting stakeholders from the global apparel industry here in Bangladesh to talk about the future of fashion and to push positive progress that will serve to benefit the millions of people whose lives and livelihoods depend on this industry."