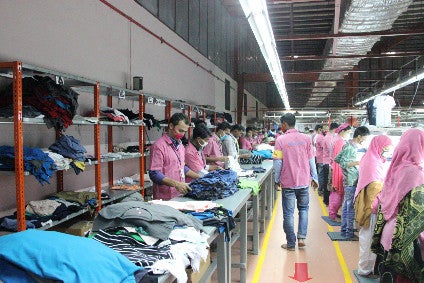 Bangladesh garment factories will now have access to more funding after the country's main bank increased the loan threshold for its export fund to US$30m.
In 2018, the Bangladesh Bank allowed members of the Bangladesh Garment Manufacturers and Exporters Association (BGMEA) and Bangladesh Textile Mills Association (BTMA) to borrow up to $25m under the Export Development Fund (EDF) against their foreign currency financing.
This limit has now been enhanced to $30m and will be effective through to 31 December, the bank said in a letter dated 17 May.
The move follows a rescue package of nearly $600m issued by the Government in March and may go some way to helping factories who have suffered as a result of cancelled or postponed orders.
In the 10 months to April 2020, Bangladesh apparel exports worldwide contracted by 14.08% to US$24.48bn from US$28.50bn during the same period to April 2019, according to the government's Export Promotion Bureau (EPB).
Up to 29 April, more than 1,100 apparel factories in Bangladesh had reported order cancellations or suspensions for products worth $3.18bn, according to the BGMEA. The group said this has threatened jobs of 2.28m workers, many of them sent home unpaid.
This follows a month-long shutdown of the US$34bn industry from 26 March to 26 April ordered by the Bangladesh government to stem the growth of Covid-19.
The Bangladesh government has taken the unusual step of asking the European Parliament to use its influence to try to persuade European clothing brands to be more sensitive about the impact of cancelling orders with Bangladesh-based suppliers during the Covid-19 crisis.