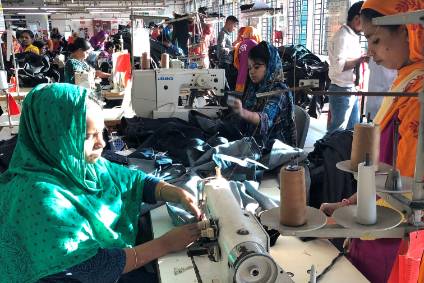 A Bangladesh factory has said it alone has had US$10m worth of orders cancelled since the coronavirus outbreak.
Denim Expert Ltd in Dhaka, which employs 2,000 people and has an annual turnover of US$18m with exports going to the US and Europe, has been closed since 25 March.
Despite the Bangladesh government covering 49% of workers' gross salaries while they are laid off, factory managing director Mostafiz Uddin says he has continued to pay the workers their full salaries given it would be "really difficult for workers to maintain their families with the 49% salary".
He has paid workers their full salaries for the month of March, though the factory remained closed as a safety precaution against Covid-19, and is committed to paying workers their full salaries for April "without having any revenue in this month."
For the next three months, worker salary costs will stand at $1.05m.
"It's getting difficult to secure the amount without outstanding payment released by buyers, without adequate cash flow, without bank loan provision, and without being entitled [to] government support," he asserts.
Among the orders cancelled he details a $1.19m order that was completed in February but whose payment remains outstanding, $228,225 worth of orders which buyers have requested are held, and $1.5m of products whose raw materials have been received but the buyer has asked the garments not been produced.
Other scenarios involve where the material has been purchased from a different mill but the buyers have requested production does not go ahead. This amounts to $2.8m. Garments ready for shipment that have been cancelled amount to $795,000, raw material which has been ordered but the production order cancelled amounts to $1.8bn, and upcoming confirmed orders that have been cancelled amount to $1.9m.
"I would never throw my workers out into the street, as they are my family," Uddin says. "But I also do not know how long I can survive this. From a financial perspective, we can only afford to pay our workers and other bills for as long as we receive payments from buyers because that is the only source of revenue for us."
The factory is just one of a vast number to see orders cancelled or payments delayed as stores around the world are forced to close as part of country-wide lockdown measures to try to stem the coronavirus outbreak.
New Look recently said it was halting supplier payments and new orders. A retail supplier engagement specialist, Solutions for Retail Brands (S4RB), warned the move could cause "irreparable damage to New Look's supply chain," and that its supplier relationships will take years to repair – if at all.
Prior to this, Primark was widely criticised for cancelling all orders with its suppliers after closing its stores on 22 March. The retailer has now, however, set up a fund to cover the wages component of orders that it cancelled in Bangladesh, Cambodia, India, Myanmar, Pakistan, Sri Lanka, and Vietnam, and has extended support to its suppliers by committing to pay for GBP370m (US$461m) worth of additional orders, over and above the GBP1.5bn of stock already in stores, depots and in transit.
Today (29 April), UK clothing giant Next said it too was cancelling some orders while identifying stock which could be moved into other seasons but would be compensating factories whose orders it was axing.
Meanwhile, nine representatives from six major garment sourcing nations have issued a joint call to global brands and retailers to consider the potential impacts on workers and small business enterprises in their supply chains when making purchasing decisions.
Elsewhere, 800 garment factories in Bangladesh have resumed operations just weeks after the country's apparel industry body advised facilities to remain closed during the Covid-19 pandemic.