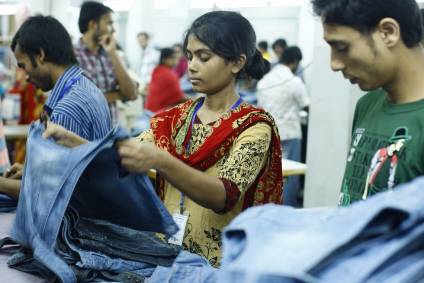 The Bangladesh government is to revise the minimum wages for some ready-made garment workers following eight days of widespread unrest – with workers warned they must return to work or risk losing pay.
The new agreement was reached on Sunday (13 January) by a special tripartite committee set to examine and resolve the issue.
A new monthly minimum wage of BDT8,000 (US$94) was implemented in December – a 51% increase from the previous BDT5300 (US$62). But the move outraged local workers and global unions who said the amount was "inadequate" to meet rising living costs. The IndustriAll Bangladesh Council was calling for an increase to double the amount to BDT16,000.
Workers began striking in late December, leading to several factories being forced to suspend operations. Last week it was reported as many as 50,000 garment workers walked out of their factories demanding higher wages and clashes between police and protesting workers led to one death and dozens injured.
Newly sworn-in commerce minister, Tipu Munshi, promised that garment worker wages would be reviewed – with Prime Minister Sheikh Hasina now issuing a directive to rationally increase wages.
The new wage structure was announced at a meeting by Munshi. According to local news outlet The Independent, Grade 3, 4 and 5 workers – the grades in which striking workers most wanted to see changes – will all benefit from an increase.
The proposed wage for Grade 1 workers is expected to rise from BDT17,510 (US$209) to BDT18,257.
For Grade 2 workers, the new proposed wage is BDT15,416 from BDT14,630.
For Grade 3 workers, the proposed wage increase is to BDT9845 from BDT9590.
For Grade 4 workers, the proposed increase is to BDT9347 from BDT9245.
For Grade 5 workers, the increase will be to BDT8875 from BDT8855.
For Grade 6 workers, the increase will be BDT8420 from BDT8405.
For Grade 7 workers, however, there is no proposed increase, with wages remaining at BDT8000.
The adjustments are expected to be effective from February.
The move has been applauded by the International Labour Organization (LO). "We acknowledge the genuine efforts of all parties, led by the Ministry of Labour and Employment, to work towards setting minimum wages at an appropriate level and to reach a consensus. Through this tripartite process of dialogue, confidence is being built and we call upon all parties to help the industry resume its activity," says Tuomo Poutiainen, ILO country director for Bangladesh.
"We believe that establishing a strong wage policy for the country and regular evidence-based adjustments through full consultation with all social partners would contribute to inclusive growth, boost industry competitiveness and strengthen social protection for workers, as well as decent work and productive employment for millions of Bangladeshis."
Meanwhile, the Bangladesh Garment Manufacturers and Exporters Association (BGMEA) has warned workers to return to work or risk permanently being out of work as factories would be kept shut for an indefinite period.
BGMEA president Siddiqur Rahman told a press conference that under the Labour Act, the BGMEA had the power to keep the factories closed if the workers did not return. "No work, no pay," he warned.
The conference was held to brief media on lost production, shipment challenges, number of factories closed and other issues. The briefing (in Bengali) is below.