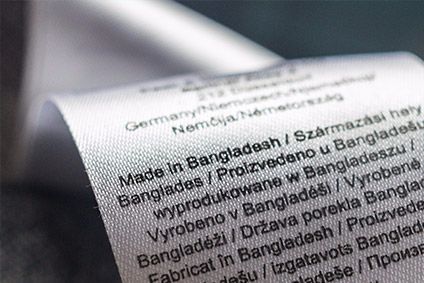 The Bangladesh government has taken the unusual step of asking the European Parliament to use its influence to try to persuade European clothing brands to be more sensitive about the impact of cancelling orders with Bangladesh-based suppliers during the Covid-19 crisis.
In a formal letter to Bernd Lange, chair of the European Parliament's international trade committee, Bangladesh's commerce secretary Dr Jafar Uddin complained of the cancellation of billions of dollars of clothing orders by European high-street retailers.
He also asked the lawmaker to help restore readymade garment (RMG) orders, suspended or cancelled by various European brands and retailers after the coronavirus pandemic.
"Such unbearable and uncompassionate action by some European apparel businesses does not go with the idea of ethical and value-based trade as propagated by the EU," the ministry's senior official wrote in a letter seen by just-style.
Uddin urged Lange "to take the initiatives to save the lives and livelihood of RMG workers, most of whom are women."
Cancellations
While the parliament is influential, it cannot formally propose political actions and laws to be taken and made by European Union (EU) institutions, which is the job of the EU executive, the European Commission.
In that regard, Uddin referred in his letter to how a committee member, Belgian socialist MEP Kathleen Van Brempt, had pressured the EU trade commissioner Phil Hogan to help ease the cancellation of orders by European brands in outsourcing countries such as Bangladesh.
These cancellations have been punishing. Up to 29 April, more than 1,100 apparel factories in Bangladesh had reported order cancellations or suspensions for products worth US$3.18bn, according to the Bangladesh Garment Manufacturers and Exporters Association (BGMEA). The lobby group said this has threatened jobs of 2.28m workers, many of them sent home unpaid.
This follows a month-long shutdown of the US$34bn industry from 26 March to 26 April ordered by the Bangladesh government to stem the growth of Covid-19.
Much of the economy remains closed until 30 May, but the government has been unable to hold the line on the closure of clothing factories, fearing the diversion of orders to rivals, amidst protests by workers demanding unpaid March wages. With wages being as low as US$100 a month, Dr Uddin stressed in his letter that four million workers employed in Bangladesh's clothing factories are the "most vulnerable" in the global apparel supply chain.
"Optimistic"
Mohammad Hatem, first vice president of the Bangladesh Knitwear Manufacturers and Exporters Association (BKMEA), said garment industry leaders met with European Commission delegates on Thursday (14 May) and called for EU help in aiding this beleaguered manufacturing sector.
He was hopeful about Dr Uddin's letter, telling just-style: "The commerce ministry's intervention makes us optimistic we'll get a positive response from the European Parliament."
There are some hopeful signs, with some retailers such as Hennes & Mauritz (H&M) maintaining some orders.
Moreover, Stefan Löfven, the Prime Minister of H&M's home country Sweden, has recently promised to his Bangladeshi counterpart, Prime Minister Sheikh Hasina, that the country would continue to import Bangladesh-made apparel and efforts would be made to avoid cancelling orders, Toufiqur Rahman, joint secretary of the ministry of commerce, told just-style.
The political focus of Bangladesh's government on the EU is not just because the country's more than 4,000 apparel factories are "trusted and dependable" suppliers to European apparel brands, said Dr Uddin, but they have thrived, in part, due to the trade benefits the EU has offered for decades under its Everything But Arms (EBA) duty-free trading initiative.
However, Covid-19 has hit hard. In the 10 months to April 2020, Bangladesh apparel exports worldwide contracted by 14.08% to US$24.48bn from US$28.50bn during the same period to April 2019, according to the government's Export Promotion Bureau (EPB).