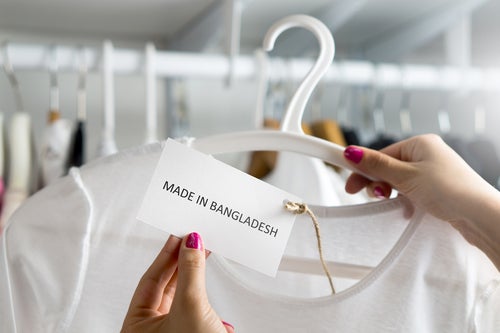 As reported by the Exports Promotion Bureau of Bangladesh, ready-made garment exports stood at US$23bn for the July-December 2022-23 period versus $20bn in the July-December 2021-22 period.
Both knitwear and woven garments experienced export increases of 13.42% and 18.29% respectively.
Bangladesh is the second largest importer of apparel in the world after China, boasting over 3,500 garment factories whose goods are sold to 167 countries,
The ready-made garment sector accounts for 84% of total exports.
At the Made in Bangladesh Week in November, the Bangladesh Garment Manufacturers Exporters Association (BGMEA) revealed it is eyeing a 10% share of the global apparel market by 2025 and is aiming for an export target of US$100bn by 2030.
In 2021 its global market share stood at 6.26% according to the Trade Statistical Review 2021.
Bangladesh is one of the main winners of a sourcing diversification shift from China.
According to Dr Sheng Lu, professor of apparel and fashion studies at the University of Delaware "China was a critical factor behind US fashion companies' shifting sourcing patterns. In particular, due to the rising US-China trade tensions and concerns about other supply chain risks associated with sourcing from the country, US fashion companies continued to reduce "China exposure."
He also explained China suffered a decline in its market shares for as many as 165 categories (or 76%) between 2019 and 2022 (January to September). Moreover, it lost more than five percentage points of its market shares for 107 categories of products (or nearly 50%)."
Bangladesh is now looking to overtake China as the world's largest supplier of apparel.
Click here for Just Style's part 1 and part 2 coverage of the event.