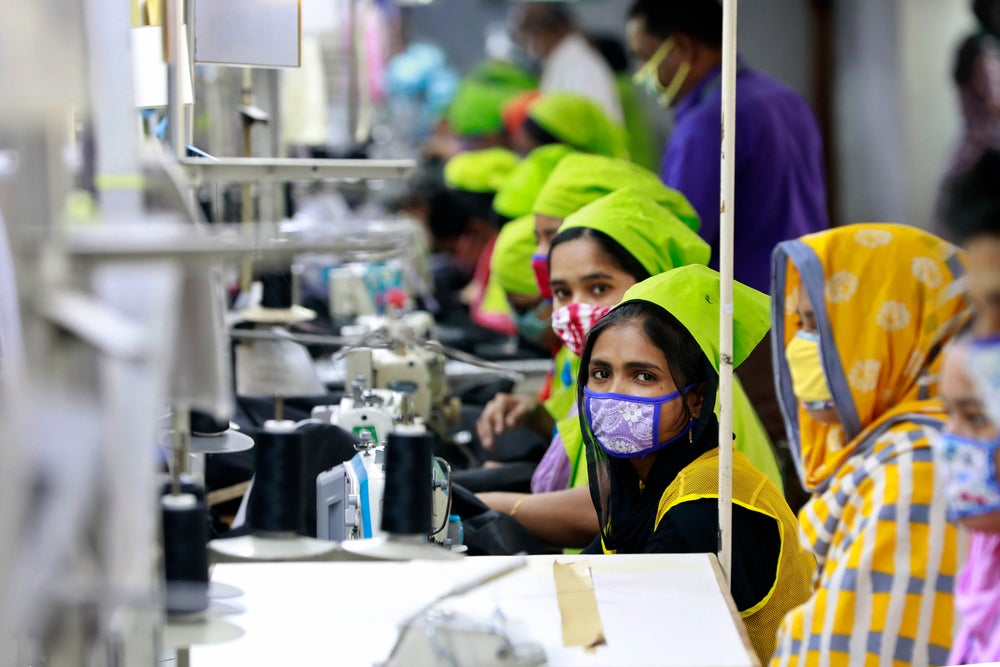 IndustriAll's affiliates in Bangladesh are demanding an increase in the minimum wage from BDT8,000 (US$75) to BDT23,000 ($215) for garment workers as soaring inflation leaves workers struggling to make ends meet.
The global union's affiliates are calling on the Bangladesh Government to 'immediately' form a minimum wage board to review minimum monthly wages. Bangladeshi labour law requires the formation of a new wage board every five years, to settle wage structures for every industry. The Government last reviewed garment workers' wages in 2018. when the minimum wage of an entry-level garment worker was fixed at BDT8,000 ($75).
IndustriALL Bangladesh Council and Garment Sramik Karmachari Okko Parishod demonstrated in front of the National Press Club in Dhaka before submitting a memorandum to the Labour Ministry on 5 February. The demands include the minimum wage of an entry-level garment worker fixed at BDT23,000 ($215), with a yearly increment of 10% as opposed to the current 5%. Other demands of workers' unions include ration facilities for workers, considering the rising cost of living.
According to IndustriAll, the market situation in Bangladesh has drastically changed between 2018 and 2022. With skyrocketing inflation, it has become impossible for workers to afford a decent standard of living. The inflation rate in Bangladesh crossed 9.5% in August 2022, the highest in eleven years. Meanwhile, the RMG exports from the country increased by 14.31% to $27.418bn during the period July 2022 to January 2023.
"The government must immediately reconstitute the national minimum wage board that includes workers' representatives. Rising inflation has put garment workers in a dire situation. Their wages need to be revised accordingly, along with adequate social security measures," said Amirul Haque Amin, president of IndustriAll Bangladesh Council.
The Bangladesh Garment Manufacturers and Exporters Association (BGMEA) had not responded to Just Style's request for comment prior to going to press.
In November last year, Bangladesh digitised its wages for garment workers. The Bangladesh Garment Manufacturers and Exporters Association (BGMEA) and Mastercard, in partnership with SouthEast Bank Ltd, launched exclusive credit and pre-paid card services to provide "more convenient, safer and smarter options" than cash for workers.
This news was first published on the IndustriAll website.