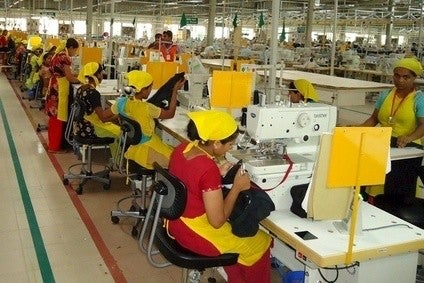 The wage board for Bangladesh's readymade garment sector has finalised its proposed minimum monthly wage, despite objections from trade unions and factory owners.
In September, the Bangladesh Government raised the minimum worker wage by 51% to BDT8,000 (US$95) per month – half what the IndustriAll Bangladesh Council (IBC) had been seeking.
The Council – made up of IndustriAll Global Union affiliates in Bangladesh – says the new wage is "inadequate" to meet the living costs of Bangladeshi garment workers. It adds that rent has increased by up to 50%, and other living costs have also increased.
The new minimum wage is due to be implemented in December. The last increase was made in 2013 following international pressure after a string of fatal factory accidents. This was an increase from BDT3,000 (US$35) adopted in 2010.
The board sent its final recommendations to the Labour Ministry in late September, ignoring objections from both garment factory owners and workers, according to RMG Bangladesh. Following the wage board's recommendation, suggestions and objections were invited.
Unions rejected the proposed wage, saying it should be doubled to BDT16,000 (US$190). They claimed state-owned factories pay this amount, and unions expect the minimum wage to at least match the state baseline.
Following scrutiny of the objections and recommendations, the wage board finalised the wage structure on 24 October.
Last year, Bangladesh produced $30bn worth of garments for major global retailers. The industry accounts for 80% of the country's exports, and employs mostly women.