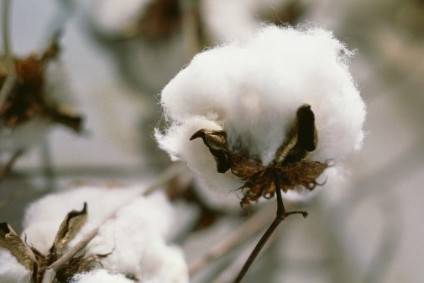 In an attempt to encourage more farmers to convert to organic cotton farming, Danish fashion retailer Bestseller has pledged to introduce cotton in the process of becoming organic – called in-conversion cotton – into its portfolio of more sustainable cotton.
The demand for organic cotton products is soaring, Bestseller says, but the uptake amongst farmers is not high as the transition period for a farmer to gain organic certification takes an average of three years. They are also not paid extra, despite working according to the rules of organic farming standards.
Gudrun Gudmundsdottir, Bestseller's sustainable materials specialist, says that for this reason, many smallholder farmers do not dare take the risk of going through the tough conversion process without the right support.
"We want to do our part to encourage more farmers to navigate the transition to organic cotton. As we introduce in-conversion cotton in our more sustainable cotton portfolio, we also support the farmers behind it and their commitment to getting their organic cotton certification," says Gudmundsdottir. "It is a direct signal to farmers that there is a demand for organic fibre and that their efforts to convert their farming to organic practices are supported and valued."
Supporting direct-to-farm in-conversion cotton will also support Bestseller's strategy of a direct-to-farm sourcing model. Bestseller Sustainability is in dialogue with current partners such as CmiA (Cotton made in Africa) and is part of the multi-stakeholder platform OCA (Organic Cotton Accelerator) to ensure commitments made to sourcing in-conversion cotton are realised while ensuring farmers are included throughout the process.
Subsequently, all Bestseller brands will be able to source, communicate and label their products with in-conversion cotton. "This way we can build strong relationships and at the same time hopefully secure our supply of future organic cotton volumes," Gudmundsdottir says.
A number of industry initiatives have launched in recent months to help drive the organic cotton industry. Bestseller recently partnered with one of its suppliers, Pakistan-based denim mill Artistic Milliners, on a farm-to-fashion traceability project for its organic cotton, while denim manufacturer Soorty is working with WWF-Pakistan and the Department of Agriculture Extension, Balochistan to launch an initiative aimed at "driving an organic cotton revolution".
Meanwhile, a research project last month identified the best crop diversification practices to optimise the agronomic, environmental, and economic benefits for Indian organic cotton farmers, and in February, Zara owner Inditex announced it is partnering with DBS Bank to scale India's organic cotton industry by providing easier and faster access to funding for more than 2,000 farmers in the fashion giant's supply chain.