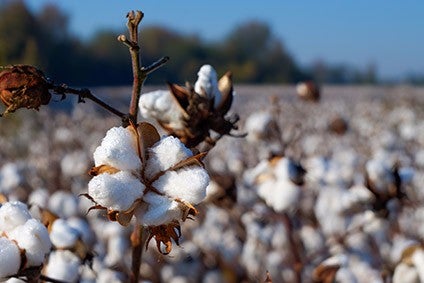 The Better Cotton Initiative (BCI) says it is well on its way to achieving its target of reaching 5m farmers by 2020, due to a 43% growth in retailer and brand members.
Through its Growth and Innovation Fund (GIF) – set up by the Better Cotton Initiative (BCI) and IDH, The Sustainable Trade Initiative – over EUR8.9m (US$10.5m) was invested in more sustainable cotton farming in seven major cotton production countries in 2016: India, Pakistan, China, Mozambique, Turkey, Tajikistan and Senegal.
Launched in January 2016, GIF is designed to help BCI advance its goal of reaching 5m farmers and accounting for 30% of global cotton production by 2020. The portfolio is jointly run by BCI, its partners and members, civil society and government, and is being managed by BCI's strategic partner IDH, which also ran the successful Better Cotton Fast Track Programme (BCFTP) from 2010 to 2015.
According to The Better Cotton GIF Annual Report, the GIF programme directly invested EUR4.2m in field-level programmes and mobilised an additional EUR4.7m in co-funding from partners. These investments enabled over 600,000 farmers to participate in BCI programmes over the 2016-17 cotton season.
In 2017-18, the Fund aims to double its reach to an estimated 1.2m farmers, if growth can continue at a rapid rate, the BCI says.
"In 2016, we launched the Better Cotton Growth and Innovation Fund, a global project portfolio designed to be a catalyst for transforming cotton production by achieving scale and impact," says Alan McClay, CEO, BCI.
"The Better Cotton GIF portfolio needs to grow rapidly over the next four years to keep BCI on track to achieve our ambitious targets, transitioning from hundreds of thousands of farmers – more than a third of the total farmers reached by BCI with its partners – to millions. And to achieve scale, we must innovate, an important facet of BCI that will become increasingly significant as we grow."
The BCI says GIF has strong potential to support innovation through its programmes, ranging from an engagement model for farmers, ways to leverage technology to save water and reduce chemical use, to a value proposition business model to enable the private sector and governments to collaborate more closely.
In 2016, GIF made "modest and cautious" investments in research and development in service delivery models and new mobile app trials and IT based technologies to enable farmers to continuously improve and uncover new practices. It is now in the process of creating an innovation framework to measure results in a systematic way.
"Ultimately, innovation will allow the Better Cotton GIF to harness the best technologies and practices to address pressing sustainability issues cotton farmers face. We look forward to sharing our innovations and results with you over the years to come," BCI says.