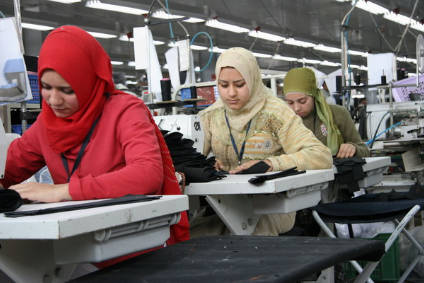 The Better Work initiative has launched its ninth country programme in Egypt, aimed at improving working conditions and boosting business competitiveness in the textile and ready-made garment sector.
The move follows a limited pilot in Egypt between July 2017 and December 2018 that involved some 26 factories, primarily in garment exports.
Better Work Egypt is one component of a wider multi-year initiative called strengthening labour relations and promoting inclusive social dialogue for development.
This is designed to support Egyptian tripartite constituents to strengthen their institutions and implement the labour laws and practices that create an enabling environment for freedom of association and collective bargaining.
Better Work's specific contribution is to support workers and managers in enterprises in the textile and ready-made garment sector to improve labour relations and compliance with national laws and international core labour standards.
"We are excited by the potential of this programme "says Dan Rees, chief of Better Work. "There is now a new opportunity for our tripartite constituents to improve the environment for freedom of association and establish stronger industrial relations, and ILO is now well positioned to support them to do so.
"Progress on these key issues is vital to Egypt's ability to create decent work and inclusive economic growth. Better Work's contribution is to bring its unique collaborative approach to improving social dialogue, working conditions and competitiveness in the garment and textile sector".
Better Work will begin by offering factory assessment, advisory and training services to improve working conditions and enhance responsible business practices in about 30 factories, with further expansion anticipated as progress is made in implementing the project objectives.
Better Work – a joint programme of the International Labour Organization (ILO) and the International Finance Corporation, a member of the World Bank Group – is currently active in 1,700 factories, with a reach to 2.4m workers.
Through its work in Bangladesh, Cambodia, Ethiopia, Haiti, Indonesia, Jordan, Nicaragua and Vietnam, the programme has helped improve working conditions including increasing take-home pay, reducing workplace harassment and a narrowing the gender pay gap, while also driving increases in firm profitability of up to 25%.