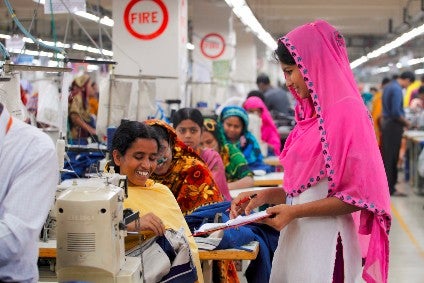 The Better Work initiative has set out plans to extend its impact on the lives of millions of workers in the apparel industry and beyond, with its next five-year strategy striving to reach some 8m workers, and 21m of their family members.
So far the programme has helped improve working conditions and living standards for 3m workers.
During its next phase, which runs from 2018 to 2022 and is called 'Amplifying Impact,' Better Work aims to lift labour standards by influencing business practices in the garment supply chain at the factory and global level, including improving compliance with labour standards and promoting business practices that promote decent work.
It also intends to strengthen the prospects for decent work through building capacity in garment-producing countries to implement good labour market policies, and inform and influence both national and transnational discussions on decent work through empirical research and reliable data.
"We've established a model of intervention that, according to our independent impact assessment, has made measurable impacts in the lives of millions of workers and their families and made businesses more competitive and up to 22% more profitable," says Better Work director Dan Rees. "Now the challenge is to broaden our impact further."
Currently active in 1,450 factories employing more than 1.9m workers in seven countries (Bangladesh, Cambodia, Haiti, Indonesia, Jordan Nicaragua and Vietnam, with a pilot in Egypt), Better Work brings together all levels of the garment industry to improve working conditions and boost the competitiveness of apparel businesses. It is the flagship programme of the International Labour Organization (ILO) and the International Finance Corporation, a member of the Work Bank Group (WBG).
It works to promote compliance with international labour standards and national law in global supply chains as a basis for building socially responsible export strategies, and enhances enterprise-level economic and social performance.
Its new strategy will work to lift labour standards in global supply chains through two broad interventions:
Influencing business practices in the global garment supply chain to:
Build on what works best in garment factories by focusing on services with the greatest value add, tackling the root causes of non-compliance, redoubling efforts to build worker-management dialogue, improving business competitiveness and strengthening the role of women.
Influence global brands and manufacturers to adopt the business practices that drive transformational change in labour conditions and competitiveness across their supply chains.
Influencing global brands and manufacturers can impact supply chains beyond the garment sector and beyond those countries where Better Work has established programmes.
Strengthening the enabling environment for decent work by:
Strengthening public institutions and advancing policies at the national level by leveraging ILO and WBG to improve the environment for decent work, business competitiveness and inclusive economic growth.
Influencing the global policy dialogue on decent work by providing credible data and evidence to influencers and policy makers concerned with decent work in global supply chains.
The activities can impact public institutions and policies beyond the garment sector and beyond those countries where Better Work has established programmes.
It is hoped that the interventions will each have two outcomes. The first is to see accelerated improvements in working conditions and business competitiveness through in-factory services, and global retailers, brands and manufacturers influenced to establish business practices that promote decent work outcomes in supply chains.
Meanwhile, Better Works hopes the second outcome will see strengthened institutions and influenced policies that foster decent work and improved business competitiveness at national level, and regional and global policy influenced on decent work and the United Nations' Sustainable Development Goals (SDGs) with its evidence base and proven examples of success.
"While we have shown that Better Work works, we can't be everywhere. We will continue to work intensively with enrolled factories, but by stepping up our engagement with policymakers, unions and business leaders, we can help hundreds more factories and millions of workers," adds Rees.
The programme recently launched a new five-year strategy to enhance gender equality in the garment industry a part of Amplifying Impact, Phase IV.