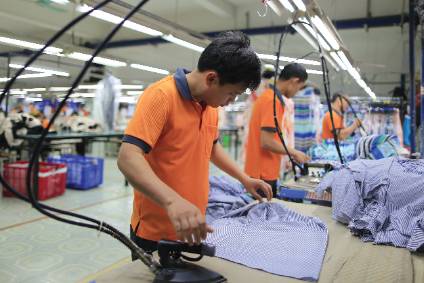 Since its inception in 2009, the Better Work Vietnam programme has increased its footprint in the country's garment industry to reach 392 active factories employing almost 600,000 workers.
In an update to mark the 10-year anniversary of the initiative, the International Labour Organization (ILO) says it has helped improve quality of life for workers, as well as enhance productivity and profitability for factories, and improve their compliance with national laws and international labour standards.
The joint programme with the International Finance Corporation (IFC) offers a package of services to all factories enrolled, including assessments, advisory and training.
In other highlights, almost all of the factories under the programme have paid workers equal or higher than the minimum wages, whereas violations of overtime limits reduced to 67% in 2018 against 90% in 2009.
Non-compliance rate in labour law requirements on facilities – including canteens, toilets and access to clean drinking water – has also dropped significantly from all of the factories ten years ago to only 33% last year.
Better Work Vietnam also helped strengthen social dialogue through the introduction of worker-management committees. In 2012, this initiative was modelled in the Labour Code to make bipartite dialogue mandatory in all of the country's industries.
"Improved working conditions go hand in hand with increased business profits," says Paula Albertson, Better Work Vietnam programme manager.
Results also show the average factory enrolled in the programme experienced a rise in profitability of 25% after four years.
And factories that invest in supervisory skill training for female supervisors have gained 22% in productivity.
"The upgrading workplace management system is the key driver for Viet Nam to achieve its ambition of becoming an upper middle income country by 2035," adds ILO Vietnam director, Chang-Hee Lee.
The textile and garment industry is expected to contribute US$40bn to Vietnam's economy in 2019, up from $7.5bn ten years ago.
Better Work Vietnam currently receives funding from the State Secretariat for Economic Affairs (SECO)- Switzerland, the Ministry of Foreign Affairs of Netherlands, the Ministry of Foreign Affairs of Denmark, and the European Union.